Published April 16, 2014
Students and advisers from the University of Louisiana at Monroe's agribusiness program recently attended the annual conference of the Delta Tau Alpha (DTA) National Honor Society on the campus of Tennessee Tech University in Cookeville, Tenn.
Approximately 100 students from across the country attended the conference. The conference included business sessions, educational events, and an honors banquet. Two national officers from ULM were recognized for their service to the society.
In addition to the aforementioned activities, those in attendance had the opportunity to network and exchange ideas with peers from over 20 different institutions of higher education from across the United States.
The conference included several educational field trips to local agricultural sites, including a biomass power generation plant and a dairy farm.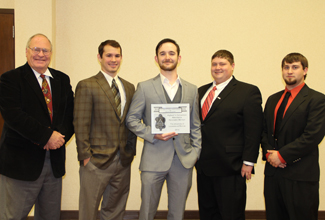 When asked about the conference, ULM DTA adviser, Zach Moore said, "Delta Tau Alpha is a wonderful organization that honors the best and brightest students of agriculture and agricultural business in the country."
"It was truly an honor to be able to take an outstanding group of young agriculturalists to an event in which they received the honor that they deserve for their phenomenal academic and professional achievements."
In attendance were, Dr. Jim Casey, outgoing DTA national treasurer, Zach Moore, ULM DTA chapter adviser, Tucker Ellington, DTA southern region vice-president, Cody Parker, agribusiness alumni and graduate assistant, and Doug Craig, national voting delegate.
The Honor Society of Delta Tau Alpha (DTA) promotes and recognizes scholarship and leadership accomplishments of agricultural students while emphasizing character development, enhancing undergraduate preparation for professional positions, and joining with other agricultural student organizations in the promotion of agriculture.
Photo Courtesy