Published May 28, 2014

An endowment totaling $25,000 will serve as a reminder of the legacy of a lost family member of the Hattaway family. Scholarships created from the endowment will be given annually to deserving students in the School of Construction Management at the University of Louisiana at Monroe, in honor of 2010 graduate Matt Hattaway.

Matt--a native of Stonewall--was known as a young man who set countless goals for himself while striving to learn as much as he could. He was the first in the Hattaway family to attend college, and was always willing to lend a hand. 
A tragic accident cut Matt's life short, but his family is proud to be able to honor him as a hero.
"He lost his life on earth helping others," said Matt's aunt, Jeanie Nichols. "He was vacationing at Gulf Shores, Ala., in June 2013 with his fiancée Jessica and some of her family."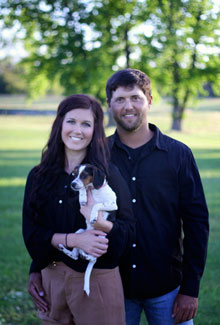 "The girls had gone shopping and left Matt with the two younger boys, one of whom was Jessica's younger brother. They had gone for a swim in the ocean when all of a sudden the weather took a turn for the worse."

"He realized that Jessica's brother was in trouble and Matt was able to pull him to safety. Even though he was exhausted, he went back into the water to help others. Matt drowned that day, June 9, 2013."
After his death, the family sought a way to honor his legacy. Knowing that Matt would have wanted to invest in education, they decided the endowment would help ensure that Matt was never forgotten.
"Matt's family and friends are committed to keeping his memory alive," Nichols remarked.
"We decided to create a scholarship fund that would enable another dedicated and diligent individual to achieve their goal."
"Matt had a smile that would warm the heart of anyone he met. [He] was a true inspiration to his family and friends and we feel this scholarship will honor him."
The minimum award for each scholarship given will be $1,000. The family believes that the scholarships will help students obtain a higher education in a field that Matt was passionate about.
Nichols said, "We want him to be remembered by those who knew him and those who will get to know him through this gift."
After Matt graduated from ULM, he continued to work for his aunt and uncle Steve and Jeanie Nichols at Specialty Trackhoe and Dozer Service in Shreveport.

"Matt worked with me from the time he was 14 until he died," Steve said.
"He decided to go to college in order to help him achieve his goal of learning all he could about the construction business, not just in the field, but also the management portion."
"When Matt passed away, he was already in a foreman position with our company and was excelling in every area. He received the first 'Employee of the Year' award in 2012."
Jeanie takes solace in knowing that Matt died doing the thing he did best—helping others.
"We all believe that if Matt had known the outcome of that day, he still would have done exactly what he did."