Published August 11, 2014
Clifford Tresner, associate professor of art at the University of Louisiana at Monroe, recently won the "Best in Show award" at the "Louisiana Contemporary" show at the Ogden Museum of Southern Art in New Orleans.
Tresner's piece, "Notes from the Road," is a contemporary sculpture created with wood, steel, stone, and other materials.
According to their website, 270 artists submitted over 830 works for consideration. A total of 89 works were selected for exhibition, by the juror, Jonathan Binstock, senior vice-president and specialist in Modern and Contemporary Art for Citi Private Bank Art Advisory and Finance.
Of the 89 presentations, awards were given to nine artists, with the top award going to Tresner.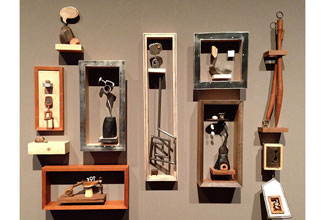 The annual event promotes contemporary art practices in the state of Louisiana, provides exhibition space for the exposition of living artist's work, and engages a contemporary audience that recognizes the vibrant visual culture of Louisiana and the role of New Orleans as a rising, international art center.
Tresner's piece can be seen as part of the larger "Louisiana Contemporary" exhibit until Sept. 28.
Tresner obtained a Bachelor of Fine Arts from Indiana State University in 1990 and a Master of Fine Arts from the University of Mississippi in 1994.
He has worked for ULM for over 18 years.