Published August 13, 2014
Iren Marinova of Sofia, Bulgaria, a 2014 political science graduate and current MBA student at the University of Louisiana at Monroe, presented her research on the United Nations (UN) at the National Social Science Association Annual Conference in San Diego, Calif.
Her paper, titled "Security Council Reactions on Iran: Multilateral versus Unipolar Decision-Making," was the result of a year-long project that began in a comparative politics course. Marinova worked under the direction of Associate Professor John W. Sutherlin, who holds the Mayme and Tom Scott Professorship of Teaching Excellence chair.
"I started with an entire class, and over the course of a semester based on student interests and willingness to conduct more research, encouraged several to present their projects at the Louisiana Political Science Association Annual Conference," remarked Sutherlin. "After the conference, it was clear that Iren Marinova's work was superior and could be developed into a quality paper."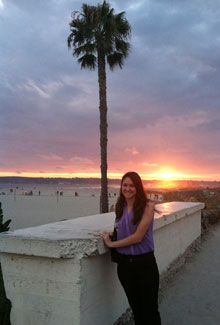 Marinova discussed her work.
She said, "I sought to discover whether national interests define the policy-making of the UN Security Council five permanent members and, in particular, if they implement the sanctions on Iran upon self-interest, or if they embrace multi-lateralism to maintain the world power balance."
She added, "It was a very interesting experience to develop my project from a tough final exam project for my comparative politics class to a paper worth presenting at a national conference. The journey was not easy, but I enjoyed it, simply because I find the topic very intriguing. I am currently in the process of preparing my paper to be submitted for publishing in a peer-reviewed journal."
Sutherlin plans to follow the same plan this year, using his international political economy course as a starting point to introducing students to scholarship.
Sutherlin said, "I wanted to take the process of education and teaching beyond the classroom and have students develop their ideas."