Published August 25, 2014
The University of Louisiana at Monroe's Soil-Plant Analysis Laboratory is now the Environmental Analysis Laboratory. The name was revised to better reflect the core analyses and focus of the lab, while providing increased clarity of their mission and scope.
Throughout its history, the goal of the lab has been to promote the mission of the university through its commitment to scientific integrity and premier customer service. The lab was originally established in 1979 to provide a unique service to the agricultural community in providing soil and plant analyses. However, over the years, in keeping with environmental demand, the lab now analyzes water, wastewater, and biota—a collection of organisms in a certain region.
The lab offers a variety of services for both individuals and groups.
Soil testing is available for gardens, flower beds, lawns, wildlife food plots, and many others. Samples are routinely analyzed for existing nutrient levels. These levels are used to make recommendations for the addition of fertilizer and lime, which ultimately results in achieving conditions for optimum plant growth.
Water and wastewater analyses are conducted under National Pollutant Discharge Elimination System (NPDES) monitoring. These include municipal sewer systems, storm water, industrial and construction activities, discharge Monitoring Report (DMR) preparation, along with standard EPA testing.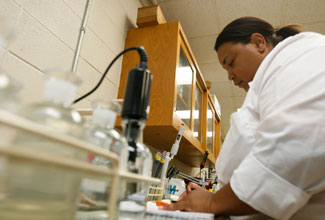 Microbiological services include total coliform and fecal coliform analysis, completed on many types of water samples. Methods used in the lab include both membrane filter and presence/absence techniques.
Oil and gas field testing on mud samples are analyzed by methodology outlined in Statewide Order 29-B, which requires samples to be tested during pit closures in Louisiana.
Metal and mineral analyses are conducted using elements in both dissolved and total forms, and are analyzed on numerous sample types, which range from water to fish tissue.
The lab was granted accreditation for the analysis of non-potable water through the Louisiana Department of Environmental Quality in 1998.
This accreditation uniquely qualifies the lab as the only Louisiana Environmental Laboratory Accreditation Program (LELAP) accredited lab in northeast Louisiana.
These types of water analyses make up the vast majority of client samples from an array of individuals, municipalities, local industries, and state and federal agencies.
The lab is located on the ULM campus in the Chemistry and Natural Science Building, room 117.
For additional information please call 318-342-1948.