Published September 05, 2014
Heidi Higginbotham, a senior University of Louisiana at Monroe aviation major, has wanted to be a pilot for as long as she could remember. Throughout her life—and her time at ULM—Higginbotham has stood out in the aviation community.
Her professors have noted her amazing persistence and perseverance, both of which are evident when she tells her story.
"My fascination and passion with all aspects of aircraft and the aviation industry started when I was about eight years old," she said. "At the age of 14, I took a discovery flight in Guatemala. [That was] when I decided there was nothing I would rather do than fly. I can proudly say that after saving money since I was 14 years old, I paid for my private pilot's license on my own and obtained that certificate on July 15, 2012."
Higginbotham was recently a recipient of the 2014 International Society of Transport Aircraft Trading (ISTAT) Foundation Scholarship worth $10,000.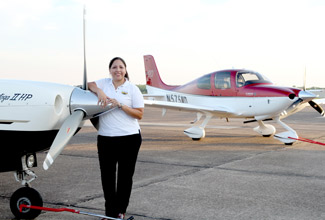 "Scholarships in aviation have always been hard to come by and limited," said David King, program coordinator for ULM aviation. "Qualifying for and receiving a scholarship of this amount is very special indeed. Persistence definitely pays off. Heidi is one of our most stellar aviation students."
King went on to acknowledge Higginbotham's ability to balance school and her work as a pilot. She is currently using her talents to help those in need.
"I work as a special events coordinator for Pilots for Patients, a non-profit 501(c) 3 that transports medically stable patients to their treatments at no cost to the patient, and I am also one of their volunteer pilots."
"I have flown over 10 missions for Pilots for Patients to help others because it keeps me flying at a reduced price and also reminds me that the struggles I have in life are a mere nothing compared to the patients who are fighting for their lives."
Higginbotham's ultimate goal is to get students more interested in aviation. She spends time on "discovery flights," which give hopeful aviation students an inside look into her world.
"I just love to get other people excited about aviation and share my love and passion for flying with them. I enjoy stimulating aviation and helping those in need, as I see no better way to build my hours," she said.
Higginbotham is in the process of completing her commercial pilot's license at Flightline Air Service in Pineville. She plans to become a flight instructor and to obtain her certified flight instructor designations before graduating in May.
"I cannot wait to inspire new pilots as my flight instructor has for me, and share my passion for aviation with them as their instructor," she said.
"After I graduate with my bachelor's degree, I plan on obtaining my Master's in Business Administration at ULM. My educational goal is to attend Embry Riddle Aeronautical University and get my Ph.D. in Aviation. I know that this is a lot of education that is costly, but I believe a good student, worker, and pilot is always learning. I have so much passion for teaching others about aviation that I can see myself opening my own flight school. I truly believe that this is my goal and in time I will accomplish it."
For more information about ULM Aviation, visit ULM Aviation