Published September 09, 2014
On Tuesday, U.S. News and World Report released its 2015 "Best Regional Universities" ranking. The University of Louisiana at Monroe made the list for southern universities in the top tier at number 81. ULM was the highest ranked public Louisiana institution.
An accompanying list was released, which ranked only the state-supported public schools in the region. ULM came in at number 39 in the south for public universities, and was again the highest ranked Louisiana institution. 
"I am very pleased that the hard work and commitment of our faculty and staff continues to be recognized," said ULM President Dr. Nick J. Bruno. "Several years ago we established a path we would follow to recruit the best academically prepared students and highlight the quality of academic offerings. In addition, we value the efforts made by our faculty and staff to make our students feel comfortable at ULM while securing a degree that has value in the workforce."
This ranking included scores on freshman retention, graduation rate, student/faculty ratio, entrance exam scores, acceptance rates, faculty resources, and counselor assessment among others.
U.S. News and World Report defines a regional university as an institution which provides a full range of undergraduate majors and master's programs, with fewer doctoral programs.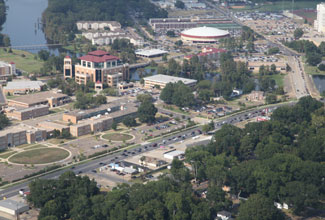 Since 1983, U.S. News and World Report has ranked institutions based on the Carnegie Classification, created by the Carnegie Foundation for the Advancement of Teaching. These schools are ranked regionally due to their high student population from surrounding states. 
The southern region included Louisiana, Arkansas, Mississippi, Alabama, Tennessee, Florida, Kentucky, West Virginia, North Carolina, South Carolina, and Georgia.
In U.S. News and World Report's "ranking indicators"— the statistics used to compile the ranking—ULM had one of the highest percentages of freshman students ranked in the top 25 percent of their high school graduating class—50 percent.
In recent years, ULM has received rankings from U.S. News World and Report for its education programs, nursing offerings, and its online education and business programs—both graduate and undergraduate.
For more information about this list, visit colleges.usnews.rankingsandreviews.com/best-colleges/rankings/regional-universities-south
To view the public universities list, visit colleges.usnews.rankingsandreviews.com/best-colleges/rankings/regional-universities-south/top-public
Photo courtesy Dacia Idom, The News Star