Published September 17, 2014
Five members of the Delta Sigma Phi fraternity at the University of Louisiana at Monroe recently received a prestigious national recognition—The Order of the Sphinx Award.
According to the fraternity's national website, the Order of the Sphinx Award recognizes undergraduate leaders of Delta Sigma Phi who have contributed significantly to their campus, chapter, and to the fraternity on a national level.
ULM's recipients include Dwayne Hammer, a pharmacy professional student from Waggaman; Michael Roboski, a marketing major from Natchez, Miss.; Matthew Petit, a pharmacy professional student from Ama; Tyler Buccola, a health studies major from Abita Springs; and Asa Warren, a speech-language pathology graduate student from Heflin (award earned while undergraduate).
---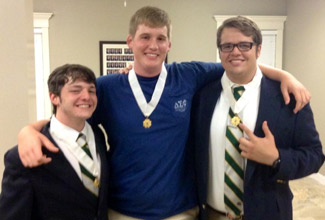 Hammer
 (
middle) with Delta Sgma Phi brothers                           From left: Buccola, Warren, and Roboski
---
Chapters, alumni corporation boards, and advisers determine those members most deserving of this high undergraduate award through nomination and vote.
This award, given to the top 85 members nationwide, distinguishes the members who have gone above and beyond to help and provide for their chapter.