Published September 23, 2014
The University of Louisiana at Monroe's School of Education—part of the College of Arts, Education, and Sciences—recently received four national "best buy for online degree" rankings from GetEducated.com.
"ULM is in the forefront of teacher education," said Vicky Phillips, founder of GetEducated.com, the consumer's guide to online education. "The school is a laudable example of how the affordability and accessibility crises in teacher education can be solved through a combination of traditional programming delivered through online platforms."
According to their website, GetEducated.com serves as a consumer group that publishes online college and university rankings and ratings based on the dimensions that matter most to online students: affordability and credibility.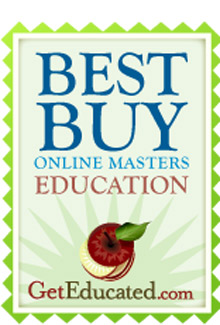 "The faculty at ULM has constructed a state-of-the-art online delivery system for advanced teacher education. The university's e-learning system insures that career advancement is available and accessible in rural areas, especially in areas where no educational opportunity previously existed for working teachers in need of post-bachelor specialization," says Phillips.
ULM's online master's degrees in education; curriculum and instruction; educational leadership; and teaching were all ranked as some of the nation's "best buys."
"Years ago when ULM education faculty began designing online graduate programs, we recognized the growing need to provide graduate level opportunities for a broader audience," said Dr. Dorothy Schween, director of the School of Education.
"As educators, we were committed to creating courses that would be just as rigorous and engaging as our face-to-face classes have always been. National recognition from independent entities such as GetEducated.com lets us know that we have been successful in reaching that goal. Affordable access to these nationally ranked programs has made it possible for educational professionals to pursue educational goals that would otherwise have been impossible to achieve."
Each program was independently reviewed and each degree must objectively cost less than the average of all reviewed online degrees in the comprehensive national data set. All four of ULM's degrees came in at a cost of $14,418.
"Teachers don't earn the highest salaries," reports Phillips. "Affordable education programs mean less financial stress on teachers, giving them more incentive to seek careers in the public school system where wages tend to be lower than in the private sector."
The rankings:
The highest ranking for the school was given to the online master's degree in teaching. Coming in at number nine in the nation for affordability, ULM's program was matched against 39 other programs from 26 online universities. ULM was the only university in Louisiana to be ranked.
The second highest ranking for the school was awarded to the online master's in curriculum and instruction. This ranking was based on data for 41 programs from 34 universities. ULM's program was ranked at number 13 in the nation.
ULM's online master's in educational leadership received the number 22 spot in the nation and was the highest ranked university in the state. These rankings were based on the 41 programs in the nation under $19,000.
The online master's in education was ranked at number 84 on the national list. The rankings were based on data from 439 other programs at 147 schools.
"This is fantastic news, and further verification that the School of Education at ULM offers excellent, affordable programs that prepare our students to excel in their careers," said Dr. Sandra Lemoine, dean of the College of Arts, Education, and Sciences. "To receive four recognitions demonstrates the outstanding quality of our faculty and the programs they have developed."
For more information about ULM's online degrees in education, visit eULM