Published October 30, 2014
The University of Louisiana at Monroe's American Chemical Society student chapter was recently recognized as a "Green Chemistry Student Chapter," and also honored with a "Commendable Award," both presented by the American Chemical Society.
The "Green Chemistry" award was won after the chapter successfully performed at least three activities which highlighted the value of green chemistry to humans and the environment. The "Commendable" award was received in recognition of the chapter's service and community events held throughout the 2013-2014 academic year.
"This is great news," said Dr. Sandra Lemoine, dean of the College of Arts, Education, and Sciences. "I would like to add my congratulations to the students and faculty mentors. A special thanks to School of Sciences Director Dr. Krishnamurthy and her staff and faculty members for their dedication to our students."

Adebanjo Adedoja is a member of the organization who joined due to its various outreach activities.
"During our events, it is always very rewarding to meet a young child or even an adult who walks away from our demo stations with a completely different view of chemistry," Adedoja said.

Dr. Richard Thurlkill, associate professor of chemistry and chapter adviser says he is very proud of the accomplishments.
"These recognitions are very important because our students share the knowledge learned in class to help children and preteens to discover that chemistry can be fun and accessible to anyone."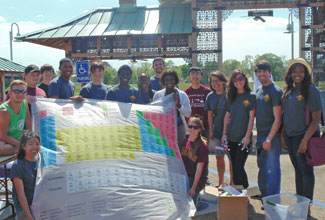 Thurlkill said the everyday activities in science teach children what chemistry is and how useful it can be if treated properly.
The American Chemical Society at ULM is composed of a group of students interested in furthering the knowledge of chemistry and its effect on society. They promote interest in the sciences and in the community through various projects and activities.