Published December 02, 2014
KEDM Public Radio, 90.3 FM has been awarded a $5,000 grant from Plum Creek Foundation to assist the station in updating its broadcast infrastructure. KEDM is housed at and operated by the University of Louisiana at Monroe.
Plum Creek is a land and timber company headquartered in Seattle, Wash. The company owns approximately 404,000 acres of land in 15 parishes in Louisiana.
The grant will allow KEDM to purchase six new specialized computers for on-air operations, including on-air, control room production, news production, network file management, traffic, and operations and production. The new systems will improve reliability of station programming.
"Keeping KEDM running smoothly allows staff to devote more time to creating the high quality news and music programs that our audience expects. These technology upgrades allow the station to do a better job serving the people of northeast Louisiana," said Jay Curtis, general manager of KEDM.
This is the first grant Plum Creek has awarded KEDM.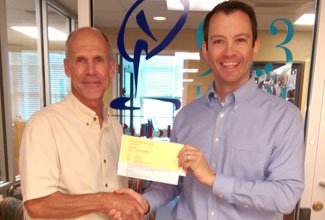 "KEDM supports many of the organizations that we have assisted through grants. It's important the station has the ability to continue the services provided to those organizations," Steve Hanley, senior resource manager at Plum Creek, said.
Hanley says he's always pleased when an organization from his local area receives a grant from the company. He explains, "It's a little competitive, but that's what we want."
The Plum Creek Foundation partners with non-profit and community organizations, universities and conservation groups, recently providing $7,000 in scholarships and $33,000 in grants to organizations in Louisiana.
The Foundation's mission is to provide philanthropic support and improve the general welfare and quality of life in the communities that Plum Creek serves.
KEDM Public Radio relies on funding from listeners, local businesses, and the Corporation for Public Broadcasting to pay for its annual operating expenses. The station broadcasts news, classical and jazz to eleven parishes in northeast Louisiana and four counties in southeast Arkansas.
For more information, visit kedm.org