Published July 16, 2015
Students from the University of Louisiana at Monroe's radiologic technology program took home first place in the Quiz Bowl competition at the 58th annual meeting of the Louisiana Society of Radiologic Technologists (LSRT) held July 9-11 in Lafayette.
The team dominated the competition and took home the first place trophy, beating out 10 university teams from across the state.  
Team members included Walter Kipp of New Iberia, Lynsie Nugent of Deville, Eleanor Benjamin of London, England, Adrienne Robinson of West Monroe, Hannah Young of Minden, and Emily Brasher of West Monroe.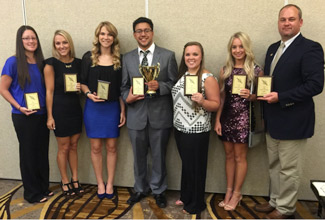 Team members were awarded individual plaques, as well as a team trophy that will be housed in the radiologic technology program offices.   
Throughout the conference, there were various opportunities for students to get involved.
Students participated in their choice of the Scientific Essay Competition or the Scientific Exhibit Competition. They were awarded a certificate for their participation in the competitions. 
Kathryn Steele, a senior radiologic technology student from Natchez, Miss., led the student conference as chair of the LSRT Student Advisory Council.  Steele was elected at the previous LSRT Meeting in early 2015 and will continue her position as chair until March 2016. 
Brett Bennett, associate professor and head of the ULM radiologic technology program, said Steele has been involved extensively with the state society, and has contributed significantly on behalf of the student technologists in the state.
Bennett was appointed as the Executive Secretary of Finance for the state society. He also served as the electronic scorekeeper in the quiz bowl competition.
According to their website, the LSRT strives to advance the professions of radiation and imaging specialties, to maintain high standards of education, to enhance the quality of patient care, and to further the welfare and socioeconomics of Radiologic Technologists.
ULM's radiologic technology program was established in 1971.