Published October 14, 2015
The University of Louisiana at Monroe will present a TEDxULM event at 6:00 p.m. Friday, Oct. 16 in ULM's Spyker Theatre. It is the first TEDx event the university has hosted.
Six speakers and performers will present discoveries and ideas to promote awareness and action.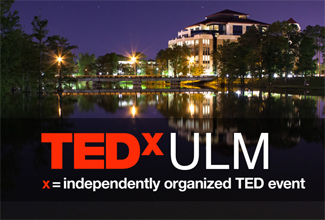 Speaking at this TEDxULM event are Mr. Benjamin Hickey, Dr. Diana Greenlee, Dr. Kilian Garvey, Dr. Paul Sylvester, Ms. Tiffany Jackson, Mr. Tom Nicholson, and a VAPA student group which includes Cory Thaxton, Dashia Vance, Taylor Jenkins, and Mason Howard.
The theme for TEDxULM is, "Tomorrow Shaping Today," which is centered on the idea of change.  The purpose of the conference is to explore through various disciplines the differences and similarities of how the past shapes us and is shaping our perspective on the future.
TED (Technology, Entertainment, and Design) is a nonprofit organization devoted to spreading ideas, usually in the form of short, powerful talks. In the spirit of 'ideas worth spreading', TED has created a program called TEDx, which is a program of local, self-organized events that bring people together to share a TED-like experience. 
Camille Pearce, a psychology graduate student at ULM, is the main organizer of the event. Arely Castillo, coordinator of marketing and communications of the College of Arts, Education, and Sciences, is the co-organizer and advisor. Pearce is very excited that ULM has been given this opportunity to host this important event.
"I think that ULM and the community of Monroe have a lot to offer as far as a new perspective on all the ideas.  Bringing this platform to the university is giving us an opportunity to highlight these professionals with these great ideas," she said.
Pearce also hopes the community will enjoy the event and benefit from it.
"I hope that people who have never experienced TED or TEDx before get that kind of TED spirit instilled in them, and at the same time, I hope people who know TED will see that spirit reflected in what we are trying to do here," she said.
"I got very excited when Ms. Pearce approached me with the idea of a TEDxULM about a year ago," Castillo said.  "As a TED enthusiast, it's such an accomplishment knowing ULM will have its own TEDx."
"I am both impressed and inspired by the drive and professionalism Ms. Pearce, the speakers, and the rest of the TEDxULM team has shown for this project," Castillo said. "I believe ULM and the community will greatly benefit from their efforts and the conference will prove to be a success"
Because of TED guidelines, the event is limited to 100 people.  Viewers will have the opportunity to watch a live web stream of the event at www.tedxulm.com
Visit TED on Facebook, Twitter, or Instagram for more information.