Published November 30, 2015
The program, designed and led by Harvard faculty, focused on cutting edge leadership principles in the United States.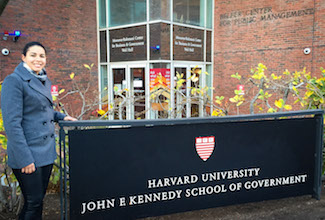 ULM graduate student, Alexandria Holland, joined the select group as part of the Louisiana cohort for the Delta Regional Authority (DRA). The Delta Leadership Institute is a three-entity collaboration with support from the entire eight-state region: The University of Alabama's College of Continuing Studies, Arkansas State University's Delta Center for Economic Development, and the University of Louisiana at Monroe's Social Science Research Laboratory.
"I am so honored and humbled to have had the opportunity to study at Harvard University," said Holland. "I want to thank my graduate supervisor, Dr. John Sutherlin, and DRA Federal Co-Chairman, Chris Masingill, for providing me with such a wonderful opportunity to learn, grow, and develop at Harvard University."
Harvard Kennedy School maintains an abiding commitment to advancing the public interest by training skilled, exceptional leaders and solving public problems through world-class scholarship and active engagement with practitioners and decision makers. The school offers the depth, reflection, insight, and excellence of ideas and teaching that can shape future leaders, affect public policies, and make an impact on people and their daily lives.
"The leadership program was incredibly intense, but I know that I will be able to utilize and apply this knowledge for the rest of my academic and professional careers." 
Holland attended the leadership training with a group of 45 Delta Leadership Institute alumni, all of which applied to partake in the program at Harvard. The program did not fail to impress Holland, and the rest of the individuals in attendance, especially with guest speaker David Gergen appearing at one of the dinner receptions.       
"Having the opportunity to listen and speak to Mr. David Gergen was truly an honor, and a once in a lifetime experience that I will never forget." 
David Gergen is a senior political analyst for CNN and has served as an adviser to four U.S. presidents. He is a professor of public service and co-director of the Center for Public Leadership at the Harvard Kennedy School.
"I cannot overemphasize how grateful I am for being able to attend the leadership program at Harvard. Through the work of the DRA and the Social Science Research Laboratory, I have been so very fortunate to be able to work and connect with such highly influential people throughout the Delta region."