Published December 14, 2015
The University of Louisiana Monroe's online degree program, eULM, has been named 33rd on the College Choice ranking of most affordable online colleges for a bachelor's degree nationwide.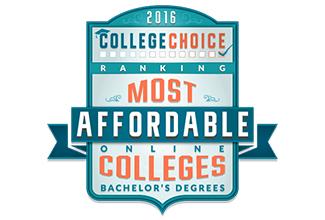 The 2016 ranking is based on the total cost to attend, including tuition and all fees. Only schools that are regionally accredited and offered at least 5 degree options were considered. 
Cost continues to be a major factor in higher education. However, while tuition and required fee charges are rising at many universities, eULM is making it financially easier for students to obtain a bachelor's degree.
"When I was looking into different universities, I was surprised that ULM's cost of tuition was significantly lower than other universities I was considering," said Kelsey Knox, a senior eULM student majoring in Gerontology. "Low tuition costs have enabled me to pursue my education at a prestigious university without having to worry about major debt, and for that I am grateful."
According to College Choice's website, the rankings were drawn up in order "to help cut through" the confusion of hidden fees and extra costs by showing which online programs are "truly" the most affordable.
The rankings "took into account total cost (including both tuition and all associated fees), number of online degrees offered, and only considered schools with the highest form of accreditation, regional accreditation."
"ULM is committed to providing adult learners the opportunity to earn their education at an affordable cost," said Paula Thornhill, director of eULM. "In today's economic climate, affordable education is a necessity and we are making sure that we do our part in making that happen."
eULM offers one associate degree, sixteen bachelor degrees, eighteen master degrees, and two doctoral degrees. The online program has received numerous national recognitions and rankings.
The College Choice ranking can be viewed at http://www.collegechoice.net/rankings/most-affordable-online-colleges-2016/.
For more information about eULM, visit ulm.edu/eulm.