Published December 20, 2015
The University of Louisiana Monroe's Office of Career Connections and the Office of Admissions have launched Louisiana CareerPath, a job search tool to assist current students, future students, and alumni.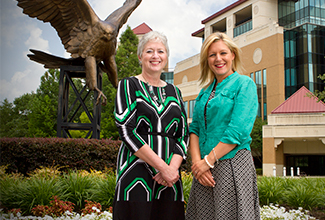 Louisiana CareerPath, by using job projection data from the Louisiana Department of Labor and www.laworks.net, allows users to search for how many Louisiana jobs are available.
"Louisiana CareerPath is another tool the university has developed to provide its students with the ability to determine the number of statewide jobs available in their chosen profession. It's important for our students – both current and future – as well as alumni, to know there are good paying jobs in Louisiana, and they don't have to leave the state to find one," said ULM President Nick J. Bruno.
"For example, the top job in demand across all eight Regional Labor Market Areas (RMLA) is for registered nurses. ULM's Kitty DeGree School of Nursing helps meet that demand," Bruno continued.
Users can filter job results across Louisiana's eight RMLAs by job title, salary range, RLMA, or by which ULM major would match a particular job title.
Louisiana CareerPath was developed after the Louisiana Department of Labor published state job projections for the years 2010-2020. Data relating to jobs requiring a 4-year degree were extracted and placed into a searchable database, then paired with ULM majors. Since the data spans a 10-year period, the data is annualized to reflect current job projections.
Roslynn Pogue, Director of ULM's Office of Career Connections, views Louisiana CareerPath as a valuable resource for those seeking employment info and related salary data.
"As the Career Center on campus, we are often asked by both students and alumni about potential job opportunities in Louisiana," Pogue said. "Now, with this interactive job search tool available on our website, that information is centralized and is easily accessible for them to gather important career and salary data information. We continually strive to provide our students and alumni the most efficient resources readily available and this is another example of how ULM exceeds the benchmark."
"Any student who is considering enrolling at ULM will find Louisiana CareerPath a useful tool to see what ULM degree matches into a particular career field. Knowing that there are very good, well-paying jobs available in the state and a ULM major related to that eventual job is often a deciding factor students use to choose to come to ULM," said Lisa Miller, Assistant Vice President of Marketing, Recruitment and Community Engagement.
The program was developed in-house by ULM by lead developer Amir Shrestha, who is himself a graduate of ULM.
Louisiana CareerPath can be found at ulm.edu/careerconnections and clicking on the Louisiana CareerPath link.'