Published December 15, 2015
The University of Louisiana Monroe officially announced the hiring of Matt Viator as head football coach in a press conference Tuesday morning at JPS Field at Malone Stadium.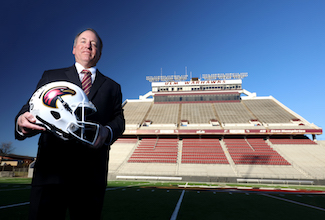 ULM president Dr. Nick J. Bruno, the chair of the search committee, Pat Mitchell, and ULM athletic director, Brian Wickstrom, offered words of welcome in front of more than 200 guests in attendance.
"I feel very good about this selection," said Bruno. "I feel this is another individual being added to the Warhawk team, and I mean the comprehensive team that makes up this university, its alumni, its supporters. We're going to move forward in a positive manner."
Bruno ended by jokingly recounting how when he was elected as university president, he was welcomed to ULM with a 2x3 foam board with his name on it. "Here you are now on the Jumbotron, so that sets the bar quite high for you," Bruno said in gest, while pointing to Viator's photo displayed on JPS Field's high-definition video display board. 
Mitchell, a ULM alumnus and former football player, was the next to offer words of welcome. He expressed how committed the search committee was in finding the right guy and how excited they are with the outcome. "I know every one of us took this task on with a sense of pride and privilege," said Mitchell. "I think we couldn't have done a better job. The choice that came out of our meetings was clear. Coach Viator is a winner, a proven winner, a player's coach, a coach's coach—he's going to pull in the entire state of Louisiana."
Mitchell indicated that, as long as he has been head coach, Viator has never had a losing record.
"So coach, no pressure, but what that means is that, this time next year, either you're going to have a losing record or we're in a bowl game," Mitchell remarked in gest.
"If I'm a betting man, I'm betting on a bowl game."
Athletic director Brian Wickstrom highlighted Viator's winning record and expressed his excitement about what the future holds. "We have the right guy. I'm excited for our student athletes…I'm excited about the future of ULM football. You need to start buying your season tickets…this is our chance to raise the level of this program."
Wickstrom presented Viator with a coach's jersey and a ULM game football to Viator's wife, Schantel, who joined Viator on stage.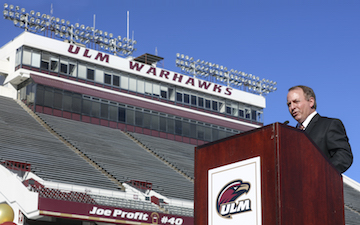 Viator began his speech by thanking McNeese State University for their support over the years. "Before I move forward I would like to thank McNeese for the great time Schantel and I had there for 16 years…Schantel and I will be forever in debt to McNeese for the opportunity we had there," he said.
Viator mentioned that he had time to meet several of the student athletes, ULM coaches and support staff. He indicated that one of his top priorities was to pursue recruiting "very, very fast."
Viator began his coaching career in 2-5A class high school football, which he said he was quite proud of. As Wickstrom and others highlighted, Viator's relationships with high school football coaches around the state are seen by many as important from a recruitment standpoint. According to Dwain Jenkins, head football coach at St. James High School, "Coach Viator is one of the good guys in the profession. He never forgot his roots in Louisiana high school football. He always goes the extra mile to develop relationships with high school coaches."
As far as the football coaching staff goes, Viator said he would be putting together a strong coaching staff that shared the same vision he did.
Commenting on his career, Viator said that he has always strived to do everything right. "All I've ever preached to my coaches and players is, 'Let's do it right. Every day that you get up and you get here, let's do it the right way.' And what I found is that, if that's your ambition, you're going to win more than you're going to lose."
Viator ended his speech on a positive note.
"The opportunity to be here is exciting to Schantel and I, and we look forward to getting to work. Thank you very much. Go Warhawks!" 
Dr. Bruno indicated that Viator's contract negotiations would begin shortly. 
For a prior press release containing Viator's professional bio, visit ulm.edu/news/2015/matt-viator-named-head-football-coach-at-ulm.