Published October 11, 2016
MONROE, La. — The University of Louisiana Monroe's fishing team won the Fishing League Worldwide (FLW) College Regional bass fishing tournament Saturday, Oct. 8 on the Ouachita River.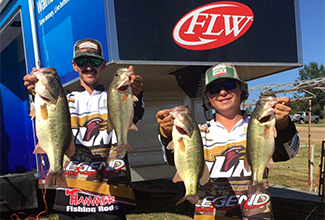 ULM students Tyler Stewart and Nicholas Joiner took home first place with a total weight of 16 pounds and 9 ounces overall. Joiner landed a 5-pound, 12-ounce bass which propelled them into the lead. In addition to winning $2,000 in prize money, they secured their spot in the 2017 College Fishing National Championship, to be held from May 31 to June 3 on Wheeler Lake in Rogersville, Alabama.
"It feels great to get the win on our home water and qualify for the national championship at Wheeler Lake," said Joiner. "We are very excited and are looking forward to representing ULM." 
"To win on our home water in front of all our friends and family was awesome," said Stewart. "Now that we have two regional wins under our belt, we really want that championship."
Tom Torregrossa, Director of the ULM Police Department and advisor to the fishing team, said the team's focus was clearly established last month.
"In the fishing team meeting last month, the focus was on ULM competing on a national level," said Torregrossa. "The guys continue to step up and put themselves in a position to win. This not only represents who we are as a university but it also represents the character of the student athletes at ULM." 
The tournament was hosted by the Monroe-West Monroe Convention and Visitors Bureau and was the third and final regular-season bass fishing tournament in the Southern Conference.
Slade Daniel and Tyler Craig also represented ULM at the tournament. They placed fifth and won $500, but more importantly, they also secured a spot in the National Championship.
Joining Stewart, Joiner, Daniel and Craig at the national championship will be Hunter Freeman and Thomas Soileau, who already qualified for the national championship back in April, when they placed fifth at the 2016 FLW College Fishing Open.