Published October 13, 2016
MONROE, La. — The University of Louisiana Monroe announced the creation of a new student event center at a press conference on campus Thursday morning.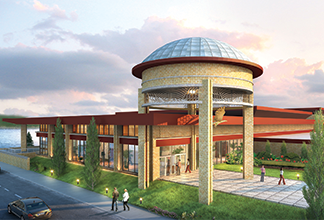 The event center, open to ULM students, faculty, staff and the entire north Louisiana region, will be renovated from the space currently occupied by the former Lake C. Oxford Natatorium, which opened in 1978. ULM students are funding the project through their own student fees, says Interim VP of Student Affairs, Camile Currier.
"A few years ago, we were looking at what options we had with the natatorium. We went through this process with the students and they felt an event center would be the best choice. We went to the Student Activity Enhancement Fee committee, made up of students, faculty, and staff and we proposed this to them. The committee voted unanimously and committed to funding the $7 million project," Currier said.  
The facility will include a ballroom that will seat 550, a theatre that will seat 83, an outside amphitheater, and a practice area for ULM's spirit groups. There will also be a large deck area overlooking beautiful Bayou DeSiard.
Tim Brandon Studios of West Monroe and Traxler Construction of Monroe are responsible for the architecture and construction, respectively, of the facility.
"This facility will do so much, not just for ULM but for this community. It will provide a beautiful facility that members of the community can gather, whether it's for a wedding or reunion or for a conference, and comfortably seat 550 in here and provide our teams – our dance team, our cheer squads — a permanent place now where they can practice," ULM President Dr. Nick J Bruno said at the press conference.
Kaitlin Neal, ULM Student Government Association (SGA) president, spoke on behalf of the student body about what this means for them.
"We have kind of outgrown the SUB (Student Union Building). You know this year we reached over 9,000 students, which we're so excited about, and that's a good problem to have, but we've kind of outgrown that. So this facility is going to make it so easy for us to have big events, have beautiful events," Neal said.
Construction has already begun and the facility is scheduled to open in fall 2018.