Published October 19, 2016
MONROE, La. — The University of Louisiana Monroe Water Ski Team travelled to Imperial Lakes in El Centro, Calif. to compete in the 37th national championship of the National Collegiate Water Ski Association (NCWSA) on Oct. 13-15.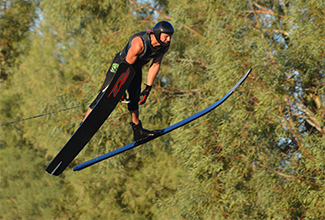 The tournament was hosted by Imperial Lakes and San Diego State University. The tournament was divided into two 12 team divisions. ULM competed in Division I with the University of Louisiana Lafayette, the University of Alabama, Florida Southern College, Rollins College, Ohio State University, San Diego State University, Clemson University, Arizona State University, University of Kansas, Michigan State University, and the University of Michigan. 
The tournament consisted of all the three events of competitive water skiing: slalom, trick, and jump. Each team consisted of five men and five women per event. Typically, not all skiers are required to compete in all events, but due to the team size this year, every skier was forced to compete in all three. 
The ULM ski team was ranked third going into the final day of the tournament, but Martin Kolman's last jump propelled the team into first place. ULM waterski coach Joey McNamara said, "Never has it been more imperative for everyone to ski their best. In the past, skiers might only have to train and ski two of the three events, but this year everyone had to focus and ski well at all three. 
"I'm unbelievably proud of each and every member of this team. We knew this year was going to be a tough year to win, but we didn't just double down, they tripled down in all events. It really came down to the jump event where nine out of our 10 members had a personal best. Water skiing championships are won with a team that skis well and consistently as a whole, not just individuals." 
Graduate student Kolman placed first Overall with a fifth place in slalom, second in trick, and first in jump. Sophomores Danylo Filchenko placed second in trick and Alex King placed third in jump. 
Junior Sasha Danisheuskaya placed second Overall with an eighth place in slalom, third in trick, and second in jump. Senior Emilia Hoikkanen narrowly missed the podium in trick with a sixth place.
The next Nationals will be held in Zachary, La. at Bennett's Water Ski and Wakeboard School in October of 2017.
The ULM women's team:
Emilia Hoikkanen of Helsinki, Finland; Sasha Danisheuskaya of Minsk, Belarus; Sara Westerland of Stockholm, Sweden: Siani Oliver of Gold Coast, Australia; Katerina Svecova of Jihlava, Czech Republic. 
The ULM men's team:
Taylor Horton of Moorpark, Calif.; Martin Kolman of Prague, Czech Republic; Danylo Filchenko of Dnipropetrovsk, Ukraine; Alex King of Hokiitikia, New Zealand; Tom Poole of Birmingham, United Kingdom. 
Full results can be found at http://bit.ly/2ef5hmC. For more information, contact Joey McNamara at 254-493-8973.