Published October 4, 2016
MONROE, La. — Adam Nettles, a senior political science major and president of the College Democrats at the University of Louisiana Monroe, was invited to serve as a guest speaker at the 2016 Jefferson-Jackson Dinner held by the Louisiana Democratic Party in New Orleans on Oct. 1.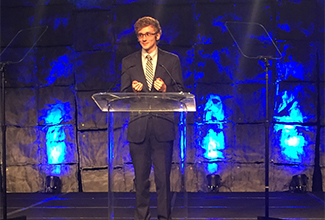 Nettles shared the stage with several notable speakers, including Governor John Bel Edwards, Democratic National Convention Chair Donna Brazile, New Orleans Mayor Mitch Landrieu, Congressman Cedric Richmond, U.S. Senate Candidates Joshua Pellerin, Caroline Fayard, and Louisiana Public Service Commissioner Foster Campbell, Senator Karen Carter Peterson, and Texas Congressman Joaquin Castro.
Nettles represented the College Democrats of America (CDA), the official student arm of the Democratic National Committee that encourages student participation in the political process and the Democratic Party. Nettles currently serves as the president of ULM's CDA chapter.
"It was a real honor to be invited to speak at the Jefferson-Jackson dinner and to meet with leading figures in the state of Louisiana," said Nettles. "I rallied people to volunteer and give their time to College Democrats. They're everywhere and we need more support. I was there to convince them. I am glad that the party sees and understands the value of College Democrats and I hope that other students around the state will get involved because we really can and do make a difference, especially during an election season."
The Jefferson-Jackson Dinner, named after U.S. presidents Thomas Jefferson and Andrew Jackson, is a decades-old Democratic tradition that is held annually across the U.S. The Louisiana event is held every year in New Orleans and represents one of the largest gatherings of Democrats from across the state. The dinner was originally scheduled for Aug. 13 but was postponed due to the devastating floods that affected so many in south Louisiana.
Dr. Joshua Stockley, ULM associate professor of political science and well-known political commentator in the state, says that Nettles is a real difference-maker. 
"That one of our two major political parties in the state of Louisiana picked a student leader from ULM to deliver a speech at one of the most important party events of the year speaks volumes about the ability of this university and its political science program to produce current and future leaders," said Stockley. "Adam is poised to make a difference in this state and in the politics of this state. I could not be happier for him to have had this once-in-a-lifetime opportunity." 
According to Nettles, participation in a College Democrats chapter is the best way to help an election. College Democrats provide students with information and help students get in touch with the party.
"We have access to the party. You can get jobs with the party when they have campaigns. It's a great opportunity for college students because it gives you an avenue to participate in politics directly," said Nettles.
While a career in politics is on Nettle's radar, right now he is focused on getting into law school and becoming a lawyer. According to Nettles, ULM's Mock Trial team has best prepared him for law school.
"Mock trial has probably been one of the best decisions I've made in college. It has taught me the basics of trial as an undergraduate and put me into contact with some excellent mentoring attorneys. I feel ULM has prepared me very well for law school," Nettles said.
Senator Karen Carter Peterson, Chair of the Louisiana Democratic Party­, expressed high praise of Nettles for his leadership and talents.
"On several occasions we have been able to work with Adam Nettles over the past few years and each and every time Adam has far surpassed even the highest of hopes we had," said Peterson. "From working and organizing door-to-door to acting as our official spokesperson in several media interviews, Adam has proven he is an exceptional talent. 
"This past weekend when we were planning the event we knew we must have a youth representative speak at the event to talk to our membership and leadership throughout the state on the importance of engaging with college students. Not only did Adam far surpass our expectations in his speech he is now comfortably moved into a role of Ambassador, for lack of a better term."