Published October 5, 2016
MONROE, La. — The University of Louisiana Monroe fishing team will compete in the Fishing League Worldwide (FLW) College Regional bass fishing tournament on Saturday, October 8 on the Ouachita River.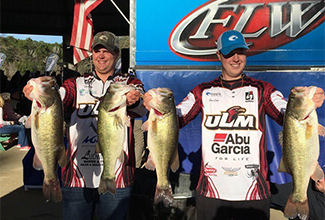 Anglers will take off from Forsythe Park, located at 2401 Sycamore St. in Monroe, at 7 a.m. on Saturday. Weigh-in will be held at the park beginning at 3 p.m. Takeoff and weigh-in are free and open to the public.
The tournament is hosted by the Monroe-West Monroe Convention and Visitors Bureau and is the third and final regular-season bass fishing tournament in the Southern Conference.
Teams participating will be competing for a berth into the 2017 College Fishing National Championship along with a top award of $2,000.
Some teams competing include Texas A&M University, Baylor University, Colorado State University ­— Pueblo, University of North Texas, and more.
The president of the ULM fishing team, Tyler Craig, says he hopes to see a great turnout this weekend. 
"We would love to see a big crowd gathered at the weigh-in site to cheer us on. Many of the guys on the team grew up fishing the Ouachita River, so if there was ever a tournament that we should do well in, it would be this one," said Craig. 
FLW College Fishing teams compete in qualifying tournaments throughout the regular season in one of five conferences – Northern, Southern, Southeastern, Western and Central.
The top 15 teams from the annual FLW College Fishing Open advance to the 2017 FLW College Fishing National Championship along with the top ten teams from each division's three regular-season qualifying tournaments.
Two ULM anglers, Hunter Freeman and Thomas Soileau, already qualified for the national championship back in April, when they placed fifth at the 2016 FLW College Fishing Open.
The other 22 members of ULM's team will be competing for a spot in the national championship on Saturday.