Published December 10, 2016
MONROE, La. — 704 students from the University of Louisiana Monroe's fall 2016 graduating class earned degrees on Saturday, Dec. 10, in ULM's Fant-Ewing Coliseum.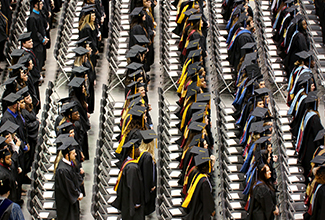 Degrees were conferred to 207 summer graduates, and 497 fall graduates. Louisiana State Senator Ronnie Johns served as the Commencement speaker.  
Senator Johns talked about the importance of continuing to acquire new knowledge, the inevitability of adversity in life, integrity, and believing in one's self.  
"It is your duty to not only continue developing the ideas and principles you learned in these halls but to acquire new knowledge and to use that knowledge to shape your future," remarked Senator Johns. "Use every opportunity to share what you know and listen to others, even if they have a different perspective than you do."
"Go for it! Reach for your dreams! Do not let fear of a mistake disguised as sensibility dictate the terms of your life. If there is something you want in this life, the only person to make that happen for you is you," Senator Johns continued. 
ULM President Dr. Nick J. Bruno gave special recognition to students who have interesting or inspiring graduation stories. Those recognized were: Alberto Sebastian Moncayo (master of business administration), Shaterica Wilson (associate of science in occupational therapy assistant), Vladimir Jakovljevic (bachelor of arts in communication), and Halie Fryday (bachelor of science in elementary education).  
Several honor graduates were also recognized during the ceremony. They are designated as summa cum laude (3.900–4.000), magna cum laude (3.750–3.899) and cum laude (3.500–3.749). 
For the complete list of summer and fall 2016 graduates, click here.