Published December 13, 2016
MONROE, La. — Dr. John Sutherlin, Associate Professor of Political Science at the University of Louisiana Monroe, has been appointed Executive Director of the Research Corporation of Louisiana (RCL), an independent entity supporting ULM's research.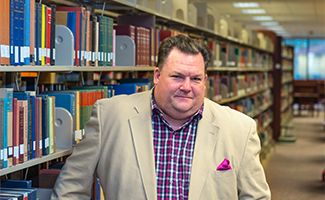 Sutherlin will work with a team to increase the number of successfully funded grants ULM receives. Further, he will serve as a liaison to take research from the university to a commercial or industrial application. Sutherlin commented, "I want faculty to consider my office as support staff for their grant-writing efforts."
"The search to fill this position produced well-qualified candidates, but John's experience with sponsored programs, his extensive network within the research community, and his familiarity with commercializing intellectual property tipped the scale in his favor," said Dr. Eric Pani, ULM's Vice-President for Academic Affairs. "His entrepreneurial attitude is especially important right now as we begin to grow the RCL and invigorate sponsored programs at ULM." 
Sutherlin joined ULM in 2005 after working at the Urban Waste Management and Research Center (UWMRC) at the University of New Orleans and teaching across town at Tulane University. He co-founded the Social Science Research Lab (SSRL) at ULM and has conducted extensive research and received numerous grants and contracts. Sutherlin received his Ph.D. from the University of New Orleans and recently completed his Masters in Environmental Law and Policy from the Vermont Environmental Law School. He is a patented inventor and often publishes on intellectual property rights.