Published December 19, 2016
MONROE, La. – The dental hygiene program at the University of Louisiana Monroe was awarded a $10,000 donation from the Morehouse Community Medical Centers' (MCMC) board of directors, administrators, and staff to establish the Lauren Lang Memorial Scholarship Fund. The fund will establish a scholarship fund to support future dental hygiene students.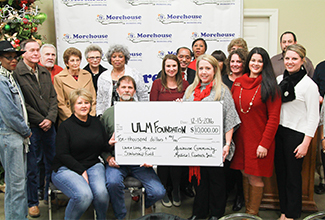 Lauren Lang of Bastrop tragically took her own life in January of 2016. Lang was a senior in the ULM dental hygiene program and completed an educational rotation with MCMC's dental clinic in West Monroe's Riser Middle School.  
She is survived by her parents Lisa and Lamar Lang.
"We want to honor Lauren in a way that will keep her memory alive and assist other students with fulfilling their dreams," stated Lindsey Murry, a board member at MCMC.  
"MCMC prides itself on giving back to the community and providing a learning environment for students in a variety of fields in health sciences. This is why providing a donation to establish a scholarship fund in Lauren's memory is important to our organization," said Katie Parnell, MCMC's CEO. 
The donation was presented at an event hosted on Dec. 15th, 2016. Morgan Patrick, a representative of the ULM Foundation, and Jordan Anderson, assistant professor of dental hygiene, accepted the gift on behalf of ULM.  
Additional support for the scholarship can be directed to the You Caring fund at bit.ly/langyoucaring or through the ULM Foundation at ulm.edu/foundation/soar.html. 
About Morehouse Community Medical Centers, Inc.: 
Morehouse Community Medical Centers, Inc. (MCMC) is a not-for-profit Federally Qualified Health Center (FQHC) located in Bastrop, Louisiana. MCMC services (both on site and through referral) include oral health, mental health, substance abuse counseling, enabling services, specialty care/services, education, and comprehensive outreach.www.mcmcinc.org.