Published December 21, 2016
MONROE, La. — A Mississippi man has been arrested for arson in connection with a fire that took place on ULM's campus Tuesday evening.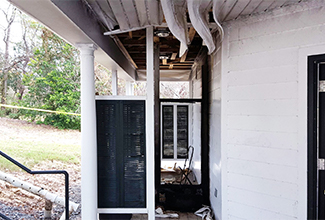 At around 5 p.m. on Tuesday, Dec. 20, 2016, ULM Police responded to a call about a fire at the ULM waterski house, located on the banks of Bayou DeSiard just off Bon Aire Drive. Monroe fire crews arrived quickly thereafter and put out the fire, but not before damage had been done to the exterior and portions of the interior of the building.
Campus surveillance captured video footage of a man setting fire to the waterski house, which opened for operation in spring 2016. ULM Police released images of the man to the local media and area law enforcement agencies shortly thereafter.
Shortly after midnight Wednesday morning, 36-year old Michael Daquilla of Centerville, Miss. was located by Monroe Police as a result of the surveillance images. ULM Police was notified and they arrested Daquilla on the charge of simple arson and booked him into the Ouachita Correctional Center. Daquilla has no known connections to ULM.
The fire is still under investigation by ULM Police, Monroe Fire Department, and the Louisiana State Fire Marshall. Motive for the crime has yet to be determined. ULM Police will forward their investigation to the district attorney's office for review and prosecution.
"I would like to commend ULM Police for their action in containing the fire until fire crews could put it out," said Camile Currier, Interim Vice President for Student Affairs. "ULM Police's collaboration with the Monroe Police Department, Ouachita Parish Sheriff's Office, and other local and state agencies was important in this incident as in others and so we thank them as well for their assistance."