Published December 5, 2016
MONROE, La. — Louisiana State Senator Ronnie Johns will serve as the Commencement speaker for ULM's fall ceremony at 10 a.m., Saturday, Dec. 10, in Fant-Ewing Coliseum.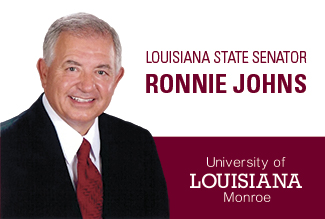 Senator Johns has represented District 27 in the Louisiana State Senate since 2012. Previously, he served in the Louisiana House of Representatives from 1996 until 2008 where he served three consecutive terms. 
Senator Johns is a 1972 graduate of ULM's (formerly Northeast Louisiana University) School of Pharmacy and practiced retail pharmacy for 10 years in his hometown of Bunkie, La.  In 1982, he made a career change and was appointed as an agent with State Farm Insurance Co. in Sulphur, La. where he lives today and still manages his State Farm Agency. 
Senator Johns has devoted his legislative career to many business-related issues, health care issues, is a strong advocate for domestic violence victims, for adoption and foster care of children, and victims of human trafficking.
He has received numerous awards during his legislative career in his local community, statewide, and nationally for his efforts on a wide variety of issues. In September of this year, he was recognized in Washington, D.C. by the Congressional Coalition on Adoption Institute as an Angel in Adoption for his tireless work on the behalf of foster children and adoptive parents. He was also recognized by the United Way of Southeast Louisiana as a Legislative Champion for Public Policy for his extensive work on the tragedy of human trafficking. 
Senator Johns sits on the Senate Finance Committee, Insurance Committee, Labor Committee and is Vice Chairman of the Judiciary B Committee. He also sits on the Joint Legislative Committee on the Budget, Joint Committee on Capital Outlay and is the Senate Chairman of the Select Committee for Disaster Recovery. He is a member of the Board of CHRISTUS Hospitals and the Board of the Metanoia Foundation, which is dedicated to helping the victims of human trafficking.
He is married to the former Michelle Servat of Rayne, La. and they have one child, Claire, married to Alex Broussard, and two grandsons, Lawston and Locke.