Published January 5, 2016
The University of Louisiana Monroe has been recognized as a military and veteran friendly campus by the state of Louisiana.
This recognition comes as a result of the governor's executive approval of House Bill 485, which provides for the designation of a public postsecondary education institution as a "Governor's Military and Veteran Friendly Campus."
"I would like to congratulate you on the exceptional work you've done and are doing to provide necessary support to your active duty, reserve, and veteran students to warrant the initial designation as a "Governor's Military and Veteran Friendly Campus," said Dr. Joseph C. Rallo, Colonel, USAF (ret) in a letter addressed to ULM president Dr. Nick J. Bruno. "As a veteran myself, I am pleased that you have chosen to honor their past sacrifices and to assist them in pursuing their academic and professional goals. Veterans are a resource which must be nurtured for the economic and social vitality of our state."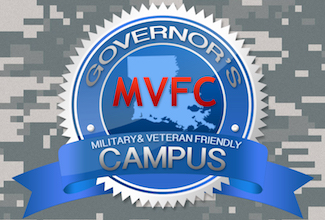 According to the bill, which went into effect August 1st, 2015, an institution must meet the following criteria to be eligible to receive the designation: adopt and fully implement the military and transfer process, offer application fee waivers and specialized orientation programs, adopt deployment and readmission policies, and offer priority class scheduling.
ULM has a long history of supporting and publicly honoring military personnel and veterans. 
ULM is home to the "Tiger Battalion," an Army Reserve Officer Training Corps (ROTC) program that trains leaders as commissioned officers for the Army. The program provides scholarship and various stipends based on academic performance to help cadets pay for tuition.
The university offers academic credit for military service, free tutoring assistance for veterans, and counseling referrals through its Office of Veterans Affairs, among many other benefits and services. 
Over the years, elected military officials have been invited to speak at ULM. Brigadier General Joanne F. Sheridan, Louisiana Army National Guard, a ULM graduate, served as the fall 2015 commencement speaker. Brigadier General Barry D. Keeling, the Director of the Joint Staff, Louisiana National Guard served as the featured guest speaker for this year's ULM annual Veterans Day ceremony hosted by the Office of Career Connections. The event honors the military service of ULM faculty, staff, and students and veterans in attendance are recognized for their service and presented with a ribbon of recognition.
Dr. Eric Pani, ULM vice president for academic affairs, expressed his pride in this recent distinction.
"Our veterans have served this country in an important and a selfless manner, so I am proud that ULM can provide them with credit for their experience and training and access to degree programs that will benefit them. It is also gratifying to get confirmation from the governor and state legislators that our support services are helpful to the brave men and women who have willingly helped us."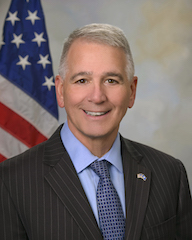 Congressman Ralph Abraham, M.D., R-Alto., a member of the Veterans Affairs Committee and chairman of the subcommittee on Disability Assistance and Memorial Affairs, offered words of appreciation to ULM for its continued support of members of the armed forces.
"I applaud ULM for going above and beyond for our members of the military and our veterans. ULM's rich military history is reflected in its very mascot as the P-40 Warhawk fighter planes played a critical role in the Allies' victory in World World II. The faculty and staff display that proud heritage each day in the work they do for the men and women of the armed services and our veterans, and I congratulate them for earning this prestigious distinction."
The designation applies for one year, after which time the university must submit a renewal application to the Board of Regents.