Published February 12, 2016
MONROE, La. — ULM College of Arts, Education, and Sciences is hosting their 2016 Spring Art Crawl on several campus locations on Thursday, Feb. 18. from 5-7 p.m.
Admission is free and open to the public. Light refreshments will be provided.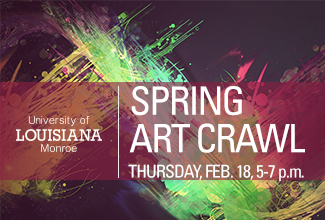 Participating galleries include The Walker Gallery, Dean's conference room, Bry Art Gallery, ULM Sculpture Garden. In addition, a variety of pieces will be displayed during an open house of the Advance Studios located in Stubbs Hall 234 and 236.
The crawl kicks off with a brief gallery talk from local and featured artist Vital Shell in Bry Gallery at 5 p.m.
Dr. Mara Loeb, associate professor in the School of Humanities will present her collection "Earthly Inspirations." Her work consisting of paintings, stones, and ceramics will be displayed at the Dean's conference room in Walker Hall. "Weather is clay, wood, or paint," Loeb said. "I find connections to the living Earth and the suggestion of life embedded in natural materials. 
The show in the Walker Gallery includes student's sculptures, paintings, photos, and ceramics. Although students typically exhibit their work in Bry Hall, a select few have earned the opportunity to display their work in this gallery. 
The Sculpture Garden will include a variety of artwork from students, faculty, and artists nationwide.
For more information contact Dr. Joni Noble at noble@ulm.edu or 318-342-1383 or Arely Castillo at castillo@ulm.edu or 318-342-1296.