Published February 23, 2016
MONROE, La. — As part of the Traveling Scholar Series, the Communication Program will welcome Dr. Belinda Stillion Southard to ULM's campus March 8 to present a paper titled, "Crafting Belonging to Nation and World: Women's Rhetorical Practices in Post-Conflict Liberia."
The talk will take place in Nursing Auditorium 107 at 6pm.
Dr. Southard will examine how one woman leader, Ellen Johnson Sirleaf, sought to craft belonging for the women of Liberia. Sirleaf was the first woman president of an African nation and was elected after Liberia endured fourteen years of civil warfare. Throughout her presidencies, she sought to enable Liberian women and girls concrete rhetorical practices to not only include them as citizens of the nation, but to redefine what it meant to belong to the nation, region, and the world.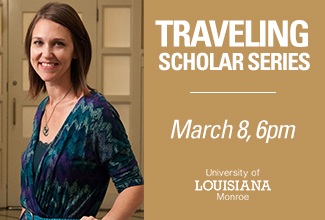 Southard is an Assistant Professor of Communication Studies and an Affiliate Professor of Women's Studies at University of Georgia. Dr. Southard holds a Ph.D. in Communication and a Women's Studies Certificate from the University of Maryland. She teaches and conducts research in the general areas of rhetorical criticism, public address, and women's rights rhetoric. Her book, Militant Citizenship: Rhetorical Strategies of the National Woman's Party, 1913-1920, was the winner of the 2012 Marie Hochmuth Nichols Award and an Honorable Mention for the 2012 Winifred Bryan Horner Book Award. Dr. Southard's research has also appeared in numerous scholarly journals including Communication and Critical/Cultural Studies, Communication Quarterly, Rhetoric & Public Affairs, Rhetoric Society Quarterly, Advances in the History of Rhetoric. Her current book project centers on how women conceptualize belonging in the contexts of regional movements, the nation-state, and supranational organizations. Dr. Southard also serves as the Book Review Editor of Southern Communication Journal and as a member of the National Communication Association's Legislative Assembly.
The presentation is free to attend and open to all. For more information, please contact Dr. Lesli Pace at 342-1165 or pace@ulm.edu.