Published February 26, 2016
University of Louisiana Monroe doctoral students Kristi Anderson and Karen McClendon were among twenty-seven students worldwide selected to participate in a PhD course and symposium in Berlin and Hannover, Germany in the fall semester—positively changing the course of their research.
The course, "Systems Thinking and Practice in PhD Research: Cybersystemic Possibilities for Governing the Anthropocene," was offered through a program created by the International Society for the Systems Sciences (ISSS) and the Berlin Workshop in Institutional Analysis of Social-Ecological Systems (WINS) in partnership with Humboldt University in Berlin. Conference co-hosts were ISSS President, Ray Ison, and ISSS Vice President for Conferences, Louis Klein. Ison, who created and taught the PhD course, is a renowned researcher, educator, author, facilitator, and consultant whose scholarship is interdisciplinary, including biological/physical as well as social realms of study and practice.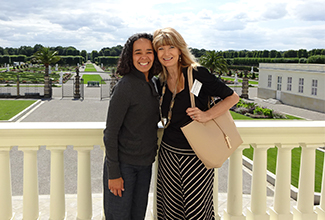 Anderson and McClendon participated in a two-day Systemic Inquiry held in Hannover at the Herrenhausen Palace with famous systems practitioners and researchers from around the world on the issue of "Governing the Anthropocene: Cybersystemic Possibilities." The inquiry was followed by two days of workshops on systemic approaches and methods that were held at Humboldt University in Berlin. The Humboldt University experience was followed by five days of participation in the 2015 ISSS Conference in Berlin: "Governing the Anthropocene: the greatest challenge for systems thinking in practice?" The experience culminated in Anderson's and McClendon's participation in a group presentation on the last day of the conference.
Dr. Jocelyn Chapman, a teacher in the Creative Systemic Studies doctoral program at ULM, introduced students to systemic thinking and to Ison's work through the teaching and utilization of his book Systems Practice: How to Act in a Climate-Change World. Anderson and McClendon have made good use of what they have learned in Dr. Chapman's systemic thinking courses and in Berlin. Anderson is now applying systemic and cybernetic approaches to her dissertation titled "A Systemic Analysis of the Untrustworthiness of the Safety Net Healthcare System in Southwest Louisiana," providing a look at past and present challenges of the indigent within community hospitals and how those influence compliance of the patient. Anderson commented, "The days spent with the many brilliant and conscious minds from around the world motivated me to want to effect a different type of change. As I saw the many diverse faces and heard the different dialects and voices, I realized that we all share similar stories and those stories can build a different reality."
McClendon, who just successfully defended her dissertation, used what she learned in Berlin to extend Ison's systemic framework to the practice of Marriage and Family Therapy. McClendon stated, "This experience has opened my mind to myriad possibilities for positive change in the areas of sustainability, health, farming, the environment, and biodiversity. Ison's book has changed the way that I choose to live my life. I have no doubt that this incredible network of systems practitioners, who think creatively and systemically about the world's problems—effectively connecting seemingly isolated parts of situations and bringing them together into a greater whole—can change the world."
ULM looks forward to the impact Anderson and McClendon will make in the near future.