Published February 4, 2016
Monroe, La. — The University of Louisiana Monroe has reached a major milestone by being recognized as one of the state's six doctoral-granting institutions of higher education.
The Carnegie Classification of Institutions of Higher Education (CCIHE), "the leading framework for recognizing and describing institutional diversity in U.S. higher education for the past four and a half decades," has classified ULM as an "R3" doctoral university; the university joins the ranks of 109 other universities across the U.S and only 5 other universities within the state. 
Every five years, the Carnegie Classification releases an official update of their classification, which was first published in 1973. The classification uses a "multi-measure research index," classifying doctoral universities according to three subcategories: 
R1: Doctoral Universities – Highest Research Activity
R2: Doctoral Universities – Higher Research Activity
R3: Doctoral Universities – Moderate Research Activity
Previously, ULM was classified with the "Master's College and Universities – Larger programs (M1)," along with Loyola University, McNeese State University, Northwestern University, Southeastern University, and Southern University. To be eligible for a "Doctoral University" classification, an institution must have conferred at least 20 research/scholarship doctoral degrees during the update year. ULM has met and succeeded that requirement, which has resulted in an increase in classification.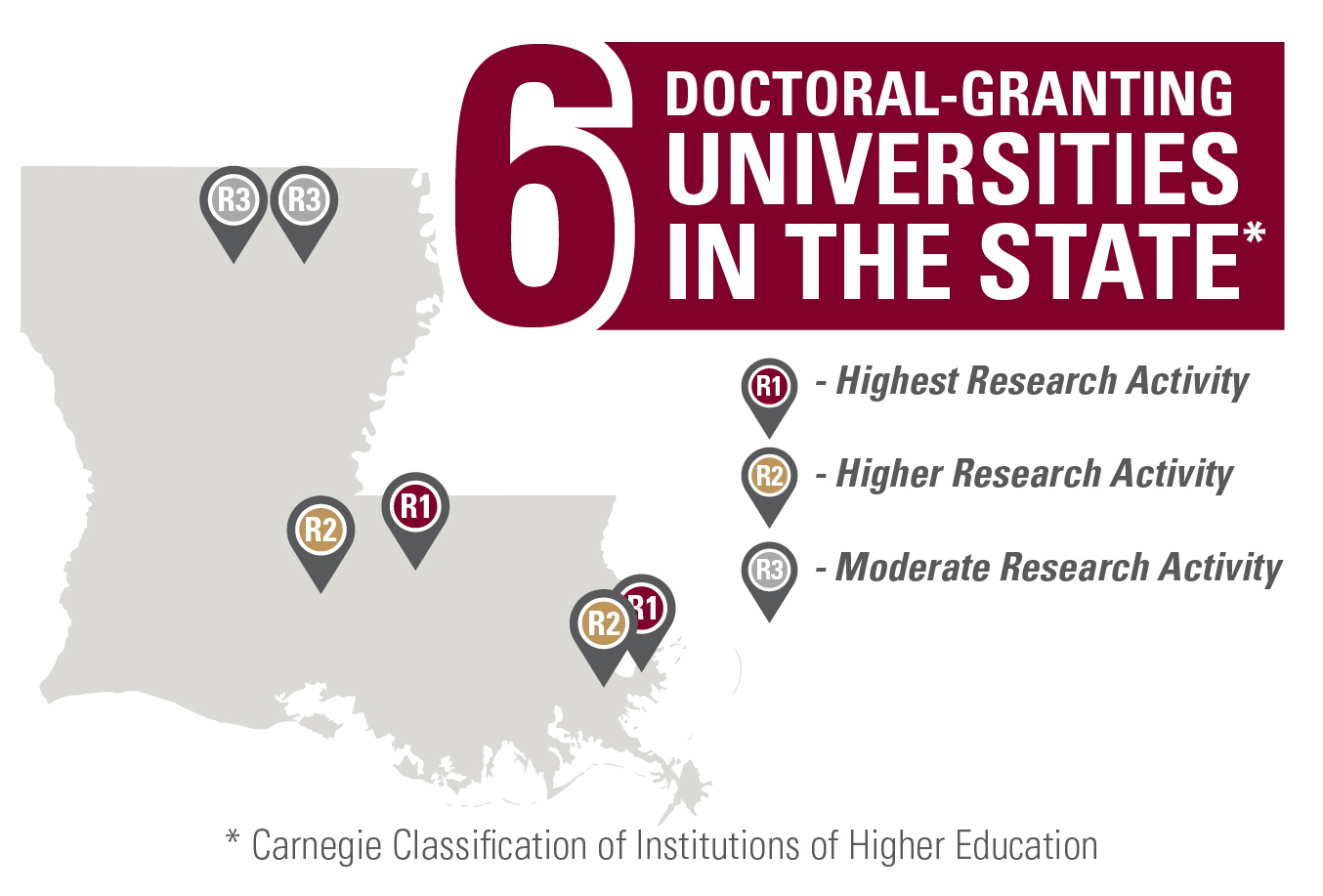 It should be noted that a university does not move into the "Doctoral University" category overnight. It takes years of strategic planning and successful organization on the part of the administration and faculty, commitment of graduate students in their respective programs, and increased efforts in recruiting. Receiving the classification speaks volumes about the growth of the university. 
"There is no doubt that this is an indication of the maturation of the university," said Dr. Eric Pani, Vice President for Academic Affairs. "With each year, ULM continues to be a nationally recognized institution of higher learning. The Carnegie Classification is one of the most respected systems of classification within higher education nationwide and so to be elevated to the 'Doctoral University' category is highly significant."
In the new 2015 Carnegie Classification, four Louisiana universities retained their classification: LSU-Baton Rouge and Tulane University remained in the R1 spot ("Highest Research Activity"), while the University of Louisiana Lafayette and the University of New Orleans remained in the R2 spot ("Higher Research Activity"). Louisiana Tech University was reclassified from R2 ("Higher Research Activity") to R3 ("Moderate Research Activity"). ULM was the only university in the state to be promoted to the "Doctoral University" category. Grambling State University, Xavier University, and Louisiana College all moved up in the "Master's Colleges and Universities" category. 
ULM offers doctoral degrees in Marriage and Family Therapy (Ph.D.), Curriculum and Instruction (Ed.D.), and Pharmacy (Ph.D., Pharm.D.), with various concentrations.  
To learn more about ULM's doctoral degrees, visit ulm.edu/gradschool.