Published May 26, 2016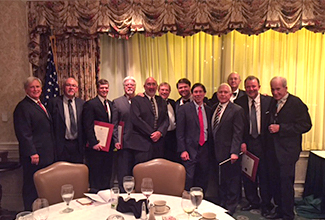 MONROE, La. – Six alumni from the University of Louisiana Monroe were inducted as members of Kappa Alpha Order (KA)'s Horace H. White Province Court of Honor at a dinner and investment ceremony held at The Shreveport Club in Shreveport, La. on May 6th.
KA's Horace H. White Province Court of Honor is designed to recognize and honor alumni in Louisiana for their continuing interest, support, and participation in the fraternity. Membership is bestowed upon KA alumni who have distinguished themselves by their continued service and interest in the fraternity, its active or alumni chapters, and those who have brought credit to themselves and KA in their public or private life. 
The following ULM alumni were recently inducted:
Adam A. Elam, DPT (Initiated in 2009)
E. Hershel Floyd, Jr. (Initiated in 1970)
Ryan A. Richardson (Initiated in 2009)
D. Brook Sebren (Initiated 2009)
Thomas A. Scurria (Initiated 1969)
Gary W. Williams (Initiated 1971)
These six inductees join many other ULM alumni who are also members of this Court of Honor: Terry Bostwick, Dr. William Bourn, Robert Canterbury, Andy Conlee, Jeff Foote, Jr., Michael Gray, Joe Jacobs, Wes Loflin, Chip Lyman, Mike McDonald, David McLemore, Clay Oakley, John Overton, Dr. Jack Parker, Mike Penn, Larry Pettiette, John Pierce, Bob Rowan, Johnny Savage, Wesly Scoggin, Luther Glynn Tubbs, and Roy Walters.
"KA has made a profound impact on the lives of hundreds of young men on the campus of ULM for over 60 years," said Brook Sebren, who currently serves as Commander of the Horace H. White Province, a volunteer for the fraternity providing guidance and support to the active and alumni chapters in Louisiana. "These inductees remain very passionate about KA, have gone on to accomplish much in their lives, and are very deserving of this accolade."
Kappa Alpha Order is a national men's fraternity with over 130 chapters and 160,000 initiated members since its founding in 1865 on the campus of Washington College (now Washington and Lee University) in Lexington, VA. The Gamma Nu chapter of Kappa Alpha Order was founded on ULM's campus in 1956.
Louisiana is home to ten active chapters and over 7,000 living alumni. Since the establishment of the Horace H. White Province Court of Honor, less than 100 KA alumni have been selected for this prestigious honor, a large portion of which are alumni of ULM.
"I am forever grateful for the wonderful college experience that the fraternity provided me during my time at ULM, and I believe any other member of this court would echo just that," added Sebren.