Published July 19, 2019
MONROE, La. — Representatives from the Christopher Youth Center presented the University of Louisiana Monroe Foundation with a $60,000 endowment at a press conference held on campus Tuesday.
The earnings from the investment will fund first generation student scholarships awarded through the TRiO program office at ULM. TRiO is a group of federally funded programs designed to assist first-generation and income eligible students reach their full academic potential.
About 69% of the students at ULM would qualify as SSS [Student Support Services] students and 50% would be fully qualified for SSS, according to Executive Director of ULM TRIO Programs Dr. Catherine Estis.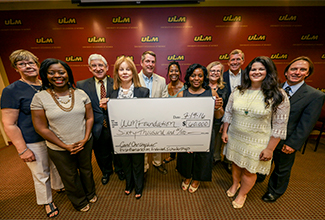 "We try to meet these students' academic and financial needs. This is where the Carol Christopher First Generation Endowed Scholarship is very significant in doing that, because it helps us help those students, especially in light of what's happening at the state level with TOPS. I want to thank [Mr. Cain] for shining the light and helping our students," Estis said at the press conference. 
Located in Monroe, the Christopher Youth Center (formerly Our House) was established in 1990 by Dr. Carol Christopher as the first Safe Place program in Louisiana for runaway, homeless, throwaway, victimized, and non-adjudicated youth.
Christopher, a well-loved individual in the community, served as a faculty member in the Music department at ULM (then Northeast Louisiana University) and was a long-time supporter of ULM. ULM President Nick J. Bruno, who knew Christopher, said she was so "bright and so passionate about the mission of the center."
"She was driven in a very positive way, and she could get people to do things they didn't think they could. There is no question that what she has done, what she did, and what she continues to do is quite a legacy that will live many, many years beyond her," Bruno continued. 
When Christopher passed away in 2015, she left a sizable amount of funds to the Christopher Youth Center. Tony Cain, past president of the Center, indicated that when the board looked at various ways to distribute the funds, it was a "no-brainer." Following discussions with the ULM Foundation, the Center decided to donate $60,000 and leverage it with a $40,000 match from the Louisiana State Board of Regents Support Fund Program to create a $100,000 endowed scholarship for ULM students who qualify as "first-generation" students.
Additionally, Cain announced that the Center is putting the "final touches" on providing a private annual scholarship through the organization for a graduate student in social work as well as an annual scholarship for the music program. 
"So, not only are we investing through the Board of Regents but we are directly investing into other programs in the university because she believed in ULM and she loved ULM, as we all do. We are excited about having this opportunity to invest into ULM," said Cain.