Published July 26, 2016
MONROE, La. — Two members of the University of Louisiana Monroe's fishing team will be competing in the 2016 Carhartt Bassmaster College Series National Championship on Green River Lake in Campbellsville, Ky. July 28-30.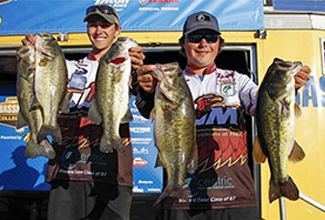 Tyler Stewart, a junior general business major from West Monroe, and Nick Joiner, a junior agribusiness major from West Monroe, will be fishing for the national college title this week on the 8,200-acre lake.
In February, Stewart and Joiner took home first place with 42 pounds even at the 2016 Carhartt College Central Regional bass tournament on the Atchafalaya Basin in Houma, La. This was the regional qualifying tournament that won Stewart and Joiner the ticket to the national stage. 
The duo has been practice fishing on Green River Lake ahead of the official start of the tournament on Thursday.
"The lake is fishing tough," Stewart said. "We're only getting eight to ten bites a day. But we did catch some nice fish on Monday. We just hope we can get some fish like that on Thursday."
The tournament will bring 89 college teams from across the country. All 89 teams will compete on the first two days. The field will then be cut to the Top 12 teams for the third day of competition.
The team with the most weight will be awarded the 2016 Carhartt Bassmaster College Series National Championship trophy. The second-, third-, and fourth-place teams will advance to the Classic Bracket, and the winning team of that competition will earn a coveted spot in the 2017 GEICO Bassmaster Classic on Texas' Lake Conroe, March 24-26, 2017.
"We are savoring every moment of this opportunity," said Stewart. "This is honestly a dream for us to be competing at this level."
For more information about the National Championship tournament, including tournament statistics and standings, visit bassmaster.com/college.