Published August 1, 2016
MONROE, La. — The University of Louisiana Monroe's Risk Management and Insurance program partnered with the Louisiana Department of Insurance, Division of Diversity and Opportunity, to host and deliver a workshop for insurance agents at the university.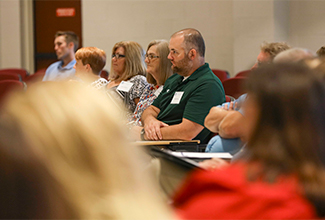 The program was attended by more than 60 people, including insurance agents and ULM Risk Management and Insurance students. 
Louisiana Insurance Commissioner Jim Donelon opened the session by welcoming the attendees and participants. Representatives from the Louisiana Professional Insurance Agents, the Independent Insurance Agents and Brokers of Louisiana, the National African American Insurance Association, and the Health Agents for America spoke about the benefits of joining an association.
Deputy Commissioner of Licensing Barry Ward discussed some of the recent and potential upcoming changes in the Louisiana Insurance Code relating to insurance agent licensing and addressed important considerations for newly licensed agents.  
Associate Professor of Risk Management and Insurance, Dr. Christine Berry, then spoke about the growing concern of the talent gap in the insurance industry. "Unless we work together to address the significant talent gap in our industry, many insurance agencies are going to find it difficult to perpetuate their business," she said. "Internal perpetuation is a great option, and insurance agents should consider hiring ULM RMI Risk Management majors as interns and begin to train and mentor them so that they can one day be prepared to run the agency. Our students are well prepared and eager to join the industry." 
The workshop also included an ethics course delivered by Arlene Knighten, the Louisiana Department of Insurance Executive Counsel. Licensed insurance agents who attended the workshop earned 3 hours of CE credits. Assistant Commissioner for Diversity and Opportunity, Patrick Bell, closed the session saying that this would be the beginning of several partnerships between the Louisiana Department of Insurance and the ULM Risk Management and Insurance Program.
The ULM Risk Management program is nationally ranked and is one of only a few programs in the country that offers specialized coursework in surplus lines and reinsurance.
For more information about the program, visit ulm.edu/cbss/insurance.