Published August 18, 2016
MONROE, La. — Dr. Nick J. Bruno, President of the University of Louisiana Monroe, delivered his sixth State of the University address Thursday morning to faculty, staff and members of the community who gathered in Brown Auditorium.
Monroe Mayor Jamie Mayo, State Senator Mike Walsworth, members of the ULM Foundation Board, and Keith Brown, Director of District Outreach for Congressman Ralph Abraham, were also in attendance.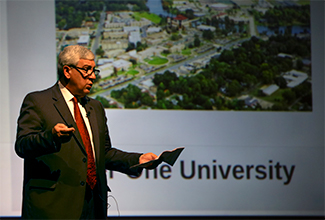 The address came on the final day of ULM's 'University Week,' a week of training and development for new and returning faculty.
Bruno highlighted the accomplishments, innovations and achievements from the previous year but also addressed new challenges and goals for the university as it moves into a new academic year.
"I tell folks all the time that I feel so privileged to be able to talk about the accomplishments of so many people that work so hard on a daily basis despite the challenges we face," Bruno remarked. 
A 'point of pride' discussed by Bruno was the university's being recognized as an 'R3' (moderate research) doctoral-granting institution of higher education by the Carnegie Classification of Institutions of Higher Education (CCIHE). This was a major milestone for the university, as it became one of only six universities in the state (and 335 in the nation) recognized by the CCIHE as a 'doctoral university.'
Bruno identified several areas of research and collaboration, including a partnership with the Ouachita Police Jury for clean water research in Calhoun, the operation of the new Doppler weather radar (scheduled to go into operation this week), and multiple million-dollar grants awarded to faculty and programs.
Bruno also showed that despite state budget issues in recent years, the university has seen a significant increase in retention and graduation. Retention increased by 9.2% from 2006-07 to 2015-16 and the graduation rate increased by 12% from 2008 to 2016.
An additional highlight was the annual service value impact ULM has on the northeast Louisiana region and across the state, which totaled $45.5 million. Such services include health services, business services, internships, athletics, and arts and culture. Internships alone, totaling 3,056 for the last fiscal year, were valued at $19.4 million. Bruno indicated that ULM has 34% more interns than any other school in the UL System.
New and exciting changes for the university include the opening of an Academic Innovation Center for faculty, a new Football Fieldhouse, a new Barnes and Noble bookstore, a major renovation of Starbucks, and a new fountain in Scott Plaza. 
One of the challenges Bruno discussed was the uncertainty students face about scholarships from TOPS, which has been a major challenge for universities state-wide. He stated that students have not seen this kind of issue with TOPS since the program's establishment nearly two decades ago. He indicated that he didn't know how this would impact students in the spring but that it could endanger enrollment if solutions were not found.
In his comments, Bruno was clear that ULM would continue to strengthen its partnerships, raise the level of research and collaboration on campus, and maintain high standards for its students.
"The six-year common theme I've had is we're the best-kept secret. Apparently, that secret is beginning to get out."