Published August 24, 2016
MONROE, La. — The University of Louisiana Monroe's School of Visual and Performing Arts (VAPA) is hosting The Brubeck Brothers Quartet on Tuesday, September 13, at 7:30 PM in Brown Auditorium, located on the ULM Campus.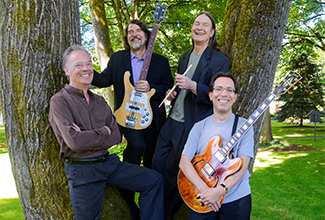 The Brubeck Brothers Quartet (BBQ) features Chris Brubeck (Bass, Trombone) and Dan Brubeck, sons of international jazz icon, the late Dave Brubeck. The BBQ also includes the world-renowned Chuck Lamb (Piano) and Mike DeMicco (Guitar). 
With nearly a half a century of record releases, awards, and performances across the world, the BBQ's 'straight-ahead' approach to jazz can be found on their latest record, LifeTimes. 
The BBQ's live show is not to be missed as they explore tones of funk, blues, and world music. Creativity, technique, and improvisation can be heard in their uncompromising dedication to melody, rhythm, culture and spontaneity. 
General admission tickets are $5. ULM students, faculty, and staff tickets are free, but tickets must be reserved in advance through the VAPA office with a valid University ID.
High School and Middle School band directors may request complimentary tickets for themselves and their students on a first-come-first-served basis. If requesting tickets, please verify that all tickets will be used as the event is expected to sell out.
Tickets will be available Thursday, August 25 in the VAPA Office (Biedenharn Hall, Room 105). 
For more information, contact the VAPA Office at (318) 342-1414.