Published September 22, 2016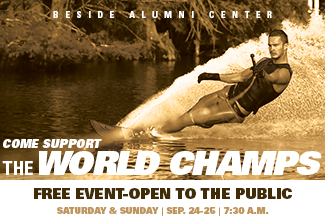 The University of Louisiana Monroe's Water Ski Team will host its annual Fall Bayou Classic tournament this weekend, September 24 and 25 on Bayou DeSiard.
The tournament will begin at 8 a.m. each day and will feature some of the world's best water skiers competing in slalom, jump and tricks. 
The event is free and open to the public. Visitors will be able to enjoy the tournament from the bleachers in Heritage Park, next to the Ana Grey Noe Alumni Center on Bon Air Drive.
The Water Ski team's coach, Joey McNamara, said the tournament is of great importance to the team since it's the first one of the season in which the whole team will compete.
"We had our first tournament of the season last week in Texas, and even though half of our team was absent due to the World University Championships in Japan, we still managed to win," McNamara said.
The team's captain, Taylor Horton, says the tournament is an ideal chance for Warhawks to demonstrate the full-team potential in front of a home crowd before they head to Regionals in Katy, Texas a week later.
"The weather this weekend will be perfect for skiing, the team is ready, and it's our bayou. We hope to ski well and start preparing for regionals, which will be our last test before the national championships in California," Horton said.
The ULM Water Ski Team competes in the National Collegiate Water Ski Association (NCWSA) South Central Region. Other schools in this conference include the University of Louisiana at Lafayette, Louisiana State University, Baylor University, University of Texas, Texas State University, Texas A&M University, the University of Arkansas, and Mississippi State University. 
The ULM women's team include: Emilia Hoikkanen of Helsinki, Finland; Sasha Danisheuskaya of Minsk, Belarus; Sara Westerland of Stockhom, Sweden; Siani Oliver of Gold Coast, Australia; Katerina Svecova of Jihlava, Czech Republic.
The ULM men's team includes: Taylor Horton of Moorpark, California; Martin Kolman of Prague, Czech Republic; Danylo Filchenko of Dnipropetrovsk, Ukraine; Alex King of Hokiitikia, New Zealand; Tom Poole of Birmingham, United Kingdom; Freddie Winter of London, United Kingdom.