Published January 6, 2016
SuperScholar, an independent college search and rankings website, has published a Smart Choice ranking of the 50 Best Online Bachelor's in Psychology Programs.
ULM's online degree program in psychology was ranked at no. 29.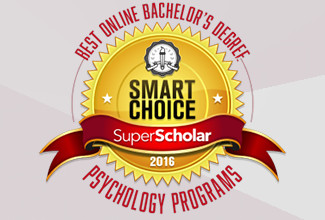 The site used multiple factors in the ranking methodology, which include: regional accreditation (a primary criterion), affordability, flexibility, accessibility, student satisfaction, and academic reputation. 
"The result is a ranking of online psychology programs that offers prospective students a helpful tool for making a smart choice about where to earn an online undergraduate psychology degree," according to the ranking website. 
This is not the program's first national ranking. Just in the last year, the program was ranked at no. 17 in OnlineU.org's list of 2015 Best Value Colleges in the nation, and no. 28 in AffordableCollegesOnlines.org's 2015 list of most affordable online psychology programs in the nation.
Dr. Ron Berry, dean of the College of Business and Social Sciences, which is home to the psychology program, said "Our faculty's continued efforts to maintain a high level of quality, coupled with our affordability, make ULM a great education value. I offer my congratulations and sincere thanks to our faculty for their efforts and commitment to providing high quality and affordable academic programs."
To view the complete rankings, visit: SuperScholar.org.