Principal, Cypress Point Elementary School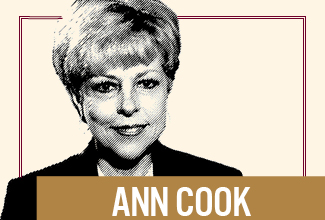 Elizabeth Ann Cook's first career path was not education, but it has most certainly been her calling. In 1980, she received her B.B.A. in Marketing from ULM (formerly NLU) and worked in the banking industry in Monroe for several years before giving in to the desire to teach. She completed the Teacher Education Program at ULM in 1986 and landed her first teaching job at St. Frederick High School in Monroe teaching business courses and serving as the cheerleader sponsor.
In 1987, Cook  took a position with the Monroe City School District as a seventh grade computer literacy and math teacher at Jefferson Junior High School. This is where she discovered her passion, teaching math. In 1997, she was recognized by the Louisiana Association of Teachers of Mathematics for Outstanding Contribution to the Teaching of Mathematics. One of her proudest accomplishments was her selection as the 1999 Louisiana State Middle School Teacher of the Year. She served as a teacher representative on the Governor's Blue Ribbon Commission for five years working to bring positive change to primary and secondary education in the state.
In December of 2001, Cook received her M.Ed. in Administration and Masters +30 from ULM and in January of 2002, she left the classroom and began her career in administration. She was selected to serve as Principal at Cypress Point University Elementary School in 2003, a position she held for 13 years.
Cook has experienced many successes in her almost 30 years in education both in the classroom and as an administrator. "I attribute my success to the outstanding professors and mentors I had while a student at ULM," she said. She also agreed to have her school serve as a Professional Development School with the ULM College of Education. Through this relationship, she has assisted in developing many outstanding educators, many hired to serve as teachers at Cypress Point. She states that almost all of her outstanding teachers came through ULM.
On July 15, 2016, Cook was selected as the 2017 Louisiana Elementary Principal of the Year (POY) during the Cecil J. Picard Educator Excellence Symposium and Gala in Baton Rouge. Her desire as a state POY is to share her experience and expertise with other principals to assist in elevating student success across the state.
She states, "If through my work, I have had an effective, positive influence on the education of the students who have crossed my path and the path of the teachers I helped develop, then my career as an educator has been successful." 
This year, Cook starts her new role with the district as a central office supervisor working with her fellow principals. 
Elizabeth Ann Cook lives in Monroe with her husband Ken.