Published September 16, 2016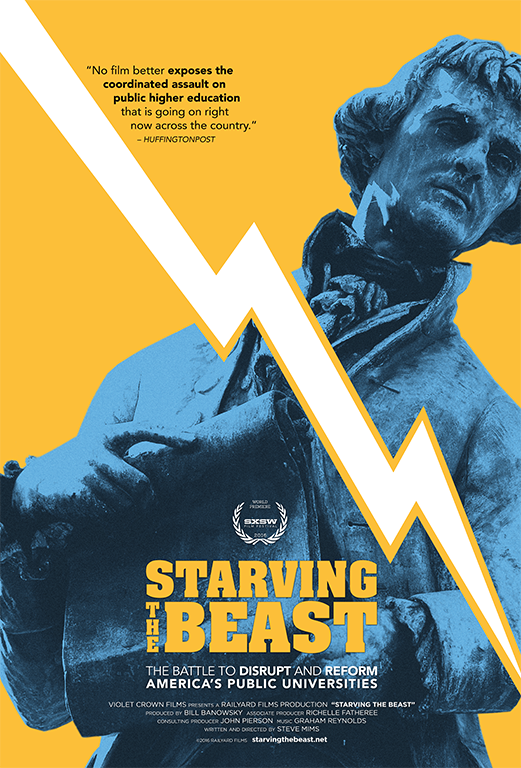 Monroe, La- The University of Louisiana Monroe, in collaboration with Grambling State University, Louisiana Delta Community College and Louisiana Tech University, will be hosting an exclusive screening of the upcoming documentary, "Starving the Beast: The Battle to Disrupt and Reform America's Public Universities" in Biedenharn Recital Hall on Tuesday, Sept. 20 at 6 p.m. 
The film was produced by Bill Banowsky, husband of alumna Susan Denmon Banowsky. The event emcee will be Leo Honeycutt, famed journalist, author, and ULM alumnus.
Written and directed by Steve Mims, adjunct faculty member at the University of Texas at Austin, the film focuses on the ongoing struggle between college campuses and state legislatures across the nation as political and market-oriented forces push to "disrupt and reform" America's historic public universities.
The film highlights a policy shift from valuing a college education as an investment by society to better the next generation to placing the burden of financing a college education directly on the students.
The film focuses on the consequences of these reforms and solutions as they play out at the University of Wisconsin, University of Virginia, University of North Carolina, Louisiana State University, and University of Texas and Texas A&M.
The film features notable appearances by Robert Mann, manship chair at LSU's Manship School of Mass Communication, Bill Powers, 28th President of the University of Texas, and James Carville, Louisiana political strategist and visiting professor at Tulane University.
The film is free, but please RSVP by September 15, 2016 to Ramona Martin. 
Starving the Beast Trailer from Steve Mims on Vimeo.
For more information, please see http://www.starvingthebeast.net/.