Published February 17, 2017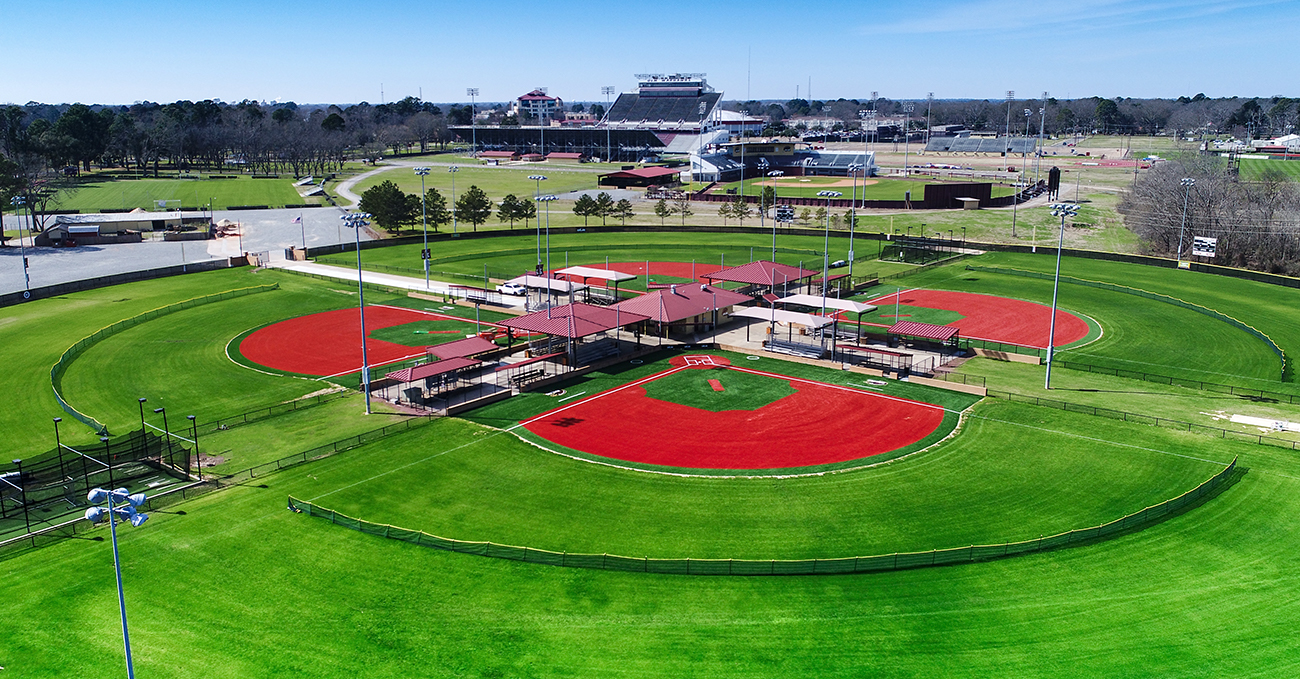 MONROE, La. — The University of Louisiana Monroe revealed the new artificial turf installed at its University Park outdoor recreational complex at a ceremony held Thursday morning.
The project was secured through a collaborative effort between ULM and the Monroe-West Monroe Convention and Visitors Bureau (CVB), while Geo-Surfaces, a Baton Rouge engineering firm specializing in sports facilities, was responsible for the installation.
The $775,000 project concludes a seven-year renovation of University Park.
When the park opened in 1993 it only had two fields. Now, it has expanded to four fields, new lighting, backstops, fencing, dugouts, batting cages and pavilion covers for the bleachers. The artificial turf is the latest addition.
"The interior of the park is now complete, and this is a good indication of where we were and what we have become," said Camile Currier, interim VP for Student Affairs. 
Hosting over 100,000 games to date, University Park not only serves students participating in intramurals, but it has also hosted local, state, regional and national tournaments.
Currier said the park will continue to serve the students and the community while stimulating economic development of the region.
"Hotels from Delhi to Ruston fill their capacity a lot of weekends while restaurants are overflowing, and our tourist attractions are seeing increased numbers of visitors due to tournaments held at University Park," Currier said. 
Camille expressed his gratitude to the management of local Taco Bell, McDonalds, and Raising Cane's who donated first-class scoreboards for University Park, but also to Monroe-West Monroe CVB for following the vision for new University Park. 
"We bought into this vision from the very beginning," said Scott Bruscato, Senior Vice President of Sales at Monroe-West Monroe CVB. "We could see the future and the impact this would have not only on ULM and the cities of Monroe and West Monroe, but also the entire parish."
Bruscato said he looks forward to many more years of partnership with ULM, and believes University Park will persist in attracting thousands of young athletes for tournaments.
"To me, ULM is just a beautiful place to be," Bruscato said. "I love ULM and I hope that when people come here, they see the same thing that I see – the beauty of it."
Tim Whitman, Ouachita High School Softball coach, said University Park is one of the only state-of-the-art facilities in the state that will now host some of the best High School tournaments.
"We have over 50 teams that come in on a weekend, and we will probably have every state champion from last year playing this year in one of our tournaments," Whitman said. "Teams in our area benefit because we are able to play good teams and not have to travel."
ULM President, Dr. Nick J. Bruno, said the new look to University Park is a continuation of the renovations at ULM.
"As we build the brand, the university stands for several things – excellence, hard work and beauty. The new facility encompasses all of it," Bruno said. "I thank Monroe-West Monroe CVB as well as Monroe Major, Jamie Mayo, for their vision years ago to build this facility and to see how it not only benefits our students and the university, but how it helps this community and this region attract young people to participate in athletics here on these fields."