Published March 2, 2017
For the third straight year, a squad from the University of Louisiana Monroe's Mock Trial team finished as one of the top teams at the American Mock Trial Association (AMTA) Regional Tournament on Feb. 19. The result qualifies the Maroon Squad for the Opening Round Championship Series (ORCS) in Decatur, GA hosted by Georgia Tech University from March 17-19. ULM is the only college or university from Louisiana to advance to the ORCS.
Less than 200 of over 900 teams in the regional tournament field qualified for the ORCS. The Maroon Squad now heads to the ORCS in Decatur, GA, which serves as the second round of the AMTA's national championship structure. ULM sent two squads to regionals, winning two team awards. The Maroon team received an Honorable Mention for a top-10 finish and the Spirit of the AMTA Award, given to the team that best exemplifies the ideals of honesty, civility and fair play.
"This was a banner year and I am very proud of each and every one of our students," said attorney Robert "Bob" Noel, who founded ULM's Mock Trial team in 2013. "These students have studied for hundreds of hours since August, forgoing their leisure time, holidays, and money to compete and to win against flagship institutions across the nation. ULM belongs to an elite group of universities; our students are an elite group of individuals."
During the regional tournament, the Maroon Squad secured wins against Tulane University, Georgia Tech University, and the University of Alabama-Birmingham.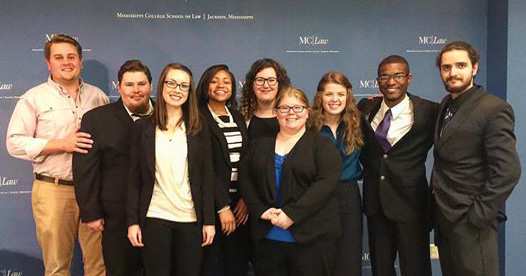 Maroon Squad (from left to right): Kyle Moore (coach), Charles Dupree, Mary Hillman, Taylor Houston, Laura Moore, Mollie York, Shelby Joyner, Isaiah Chavis, and Nick McBride.
Dr. Joshua Stockley, Associate Professor of Political Science and Director of the ULM Honors Program, said, "I offer our mock trial program as an example—among numerous examples at ULM—of how our university prepares our students to compete nationally. I am very proud of these hardworking individuals. I cannot thank our coaches enough, Bob Noel and Kyle Moore, for giving up their time from very busy work schedules to work with these students."
Charles Dupree, captain of the Maroon Squad and senior political science major from Pioneer, LA, said "Our ability to advance to nationals for the third straight year was due to the sacrifices and hard work of each individual on this team, combined with the support of our coaches and faculty. Since the start of the academic year, we have practiced diligently and rigorously for this moment."
The Gold Squad also competed in the Jackson Regional Tournament, securing wins against Millsaps College, Louisiana State University, and the University of Mississippi. The Gold Squad was Adam Nettles, Olivia Sage, Jorden Johnson, Erin McManus, Sarah Cheathem, Bree Bowie, and Elliott Gonzalez.
ULM's mock trial team was founded in 2013 by attorney Robert "Bob" Noel, with assistance from political science professors Dr. Joshua Stockley and Dr. John Sutherlin. In 2015, the University unveiled the E. Orum Young Mock Trial Courtroom.
For several years, ULM was home to the only active mock trial program in the state. ULM is the only university or college within Louisiana to advance to the ORCS.
The American Mock Trial Association was founded in 1985 and is the governing body for intercollegiate mock trial competition. AMTA sponsors regional and national-level competitions, as well as providing interesting and complex case materials for academic use.
Presently, the AMTA hosts 24 regional tournaments, eight opening round championship tournaments and a national championship tournament each season. Approximately 900 teams from over 350 universities and colleges will compete in these tournaments.