Published March 03, 2017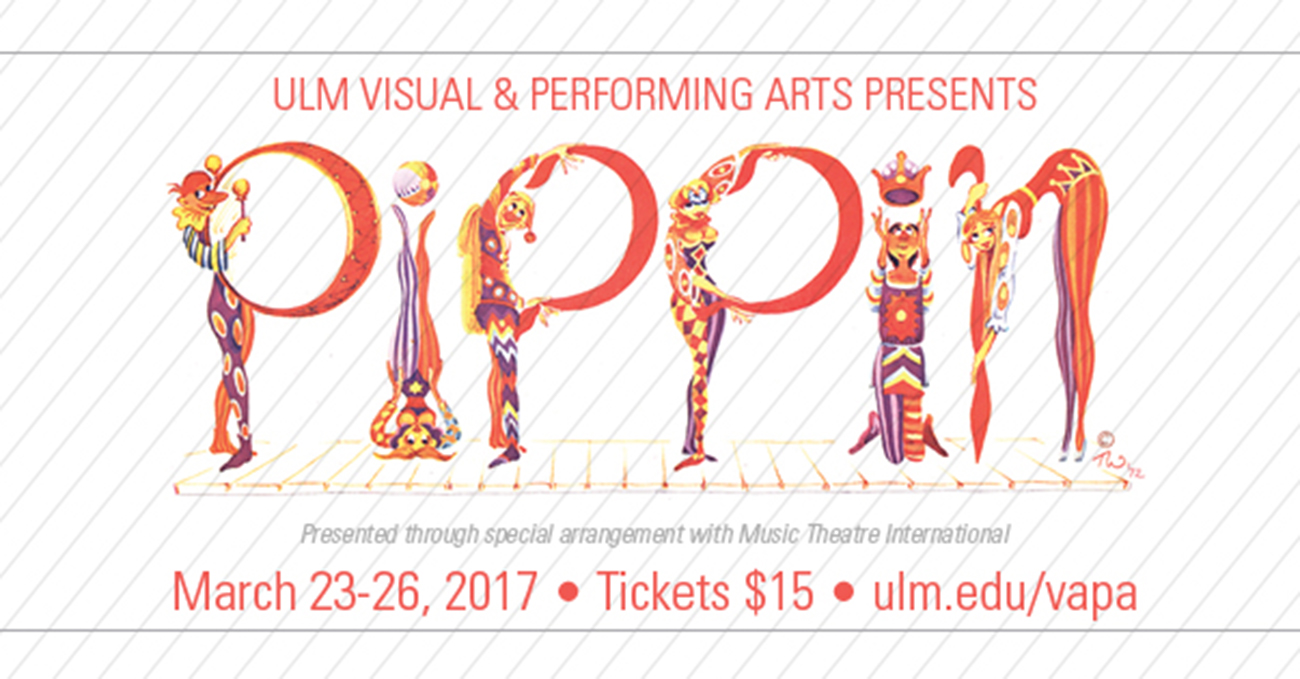 MONROE, La. - ULM's School of Visual and Performing Arts presents its Spring Musical, "Pippin," March 23-26 in Brown Auditorium. Night performances begin Thursday through Saturday starting at 7:30 p.m. and Sunday is a matinee at 2 p.m. 
"Pippin" is directed and choreographed by Robin Stephens and musically directed by Julian Jones. It features a cast of 17 students and non-students, original sets and costumes, and an orchestra. Stephens' own spin adds an eclectic element that features a 1950's playground set.
"The musical is comical, allegorical, and realistic with themes of love, relationships and experimentation," said Robin Stephens, Associate Professor of Dance at ULM and Director/Choreographer of "Pippin". 
"Pippin" tells the mystical and colorful story of the young prince Pippin's quest to discover passion and the meaning of life. The story ventures through Pippin's trials and tribulations from childhood to adulthood. The musical is a wondrous, magical featurette with music and lyrics by Stephen Schwartz and a book by Roger O. Hirson.
The young prince is performed by Matt Stewart, while Demetrius Williams and Dwendol Nelson Jr, the double leads, tell the story. Pippin's father will be Gray Hall, while his step-mother will be Morgan Rowland. Pippin's half-brother, Lewis, is portrayed by Ethan Dennis, while his grandmother is played by Allison Friloux. The leading lady is played by Abigail Thomas and her son is Benjamin Rhodes. 
Guest tickets are $15. All ULM students get one free ticket with their valid ULM ID. Group rates and discount rates are available.  
In addition, a pre-party begins at 5 p.m. on Saturday, March 25 with the KEDM Director's Gala in ULM's Sculpture Garden. Tickets for the Gala are $45, and includes VIP preferred seating and tickets to the musical.
Tickets are available online at http://ulm.edu/vapa/ or in the VAPA office, Biedenharn Hall, Room 105 during regular business hours – Monday through Thursday, 7:30 a.m. – 5:00 p.m. – and on Friday, 7:30 – 11:30 a.m. 
For more information, contact the VAPA Box Office at 318-342-1414.  Gala tickets are available by calling 318-342-5556.