Published March 29, 2017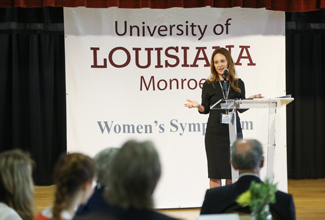 "You don't have to know what you want to do for the rest of your life. You just need to know what you are going to do next."
That was part of Susan Denmon Banowsky's dynamic message as the keynote speaker at Wednesday's Women's Symposium at the University of Louisiana at Monroe. This is the second year for the symposium, held in March for Women's History Month.
More than 200 attended the symposium, where women with diverse careers and experiences shared their expertise, exchanged ideas and got to know one another during a half-day of break-out sessions and speakers.
Banowsky, a northeastern Louisiana native and ULM alumna, is an attorney and business woman who lives with her family in Texas and New Mexico.
Specifically addressing the students at the symposium, Banowsky offered a key piece of career advice, "You can graduate from here and go do anything with anybody."
Nine breakout sessions covered health, finances, technology, STEM, communications, business and more. Panelists from the community talked about their experiences and shared personal stories during the sessions.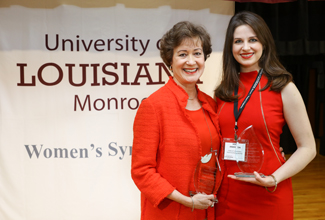 The symposium concluded with the presentation of awards to three outstanding women. Anne Lockhart, ULM Senior Development Officer, was presented with the Legacy Award for her years of service to the university and the community; former Miss ULM and Miss Louisiana 2011 Hope Anderson received the Rising Professional Award as the founder of Health with Hope, a nutrition counseling practice, and state Rep. Katrina Jackson, who was unable to attend, received the Distinguished Leader Award for her service as an elected official.
Members of the Women's Symposium Board include chairperson Kristin Chandler, Mary Elizabeth Bridges, Dr. Judy Fellows, Anna Gasperecz, Dr. Julia Letlow, Meredith McKinnie, Lisa Miller, who was MC for the event, Morgan Patrick, Roslynn Pogue and Lindsey Wilkerson.
The symposium was sponsored by: Panel Sponsors, State Farm and Holmes Company; Future Leaders of the Symposium, Hopkins Dermatology, P&S Surgical Hospital and Kitty DeGree Foundation; and Friends of the Symposium, ABG Counseling and Career Center, First National Bank and Spurlock Communications.
In-kind support was provided by Dr. and Mrs. Nick J. Bruno, Dr. Stephen Richters, Camile Currier, Dr. William Graves, Dr. Eric Pani, Dr. Ron Berry, Dr. Benny Blaylock, Dr. Sandra Lemoine, Cynthia Robertson, Pamela Jackson, Dr. Sushma Krishnamurthy, Aramark, McAlister's Deli, Sir Speedy, ULM Office of Career Connections, ULM Office of Public Information, ULM Student Government Association, ULM Campus Activities Board, Deb Lindley/Steven Burnside, ULM Police Department and Emily Clark.