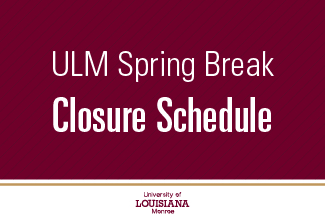 Published April 12, 2017
ULM announces the closure schedule for Spring Break 2017, Friday, April 14-Friday, April 21.
Classes:  Classes are suspended for Spring Break from April 14-21. All classes resume normal schedule on Monday, April 24.
University offices: University offices are closed from Friday, April 14, to Wednesday, April 19.  Normal schedule resumes on April 20 at 7:30 a.m.
ULM residence halls:  All residence halls will maintain normal hours and policies and procedures during Spring Break.
ULM dining facilities:
Thursday, April 13: SUB and Schulze close at 2 p.m.
Friday, April 14– Saturday, April 22: Closed
Sunday, April 23:

Schulze open 2-7 p.m.
SUB opens 7 p.m. - 2 a.m.
Monday, April 24, 2017:  Schulze and SUB normal hours
ULM's Activity Center:
Friday, April 14 – Monday, April 17: Closed
Tuesday, April 18 – Friday, April 21:  6 a.m. – 7 p.m.
Saturday, April 22 and Sunday, April 23: Normal hours