Published April 20, 2017
The University of Louisiana Monroe's storied Brown Stadium will soon receive some long-awaited loving care.   
The University of Louisiana System Board of Supervisors on Thursday gave approval for ULM to renovate Brown Stadium, including construction of a new track and soccer field at 340 Warhawk Way. 
"Improvements to Brown Stadium and Groseclose Track are long overdue," ULM President Dr. Nick Bruno said. "These improvements will provide multiple benefits to our teams, the community and the region." 
ULM Facilities, Inc., will administer the project, with its anticipated cost of approximately $5 million. 
"We'll have revenues that come from a couple of different sources," ULMFI president Scott McDonald said. "It comes from some auxiliary money, primarily some student money we have available to us and we bonded out and paid for it over a period of time. 
The Monroe/West Monroe Convention and Visitors Bureau made a very sizable and generous contribution. "Obviously that track serves as a community asset. You see people running, jogging and walking out there all the time.  It will continue to serve the community as well as the athletic teams."
Bruno said, "Contributions by the Convention and Visitors Bureau confirm the potential impact as is experienced by the softball complex."
New offices for track and soccer coaches, locker rooms, equipment storage areas and public restrooms will all be part of the planned first-floor improvements. The press box will be renovated and overall exterior aesthetics and the parking lot will see improvements too. 
ULM is aiming to complete the project by the spring of 2018.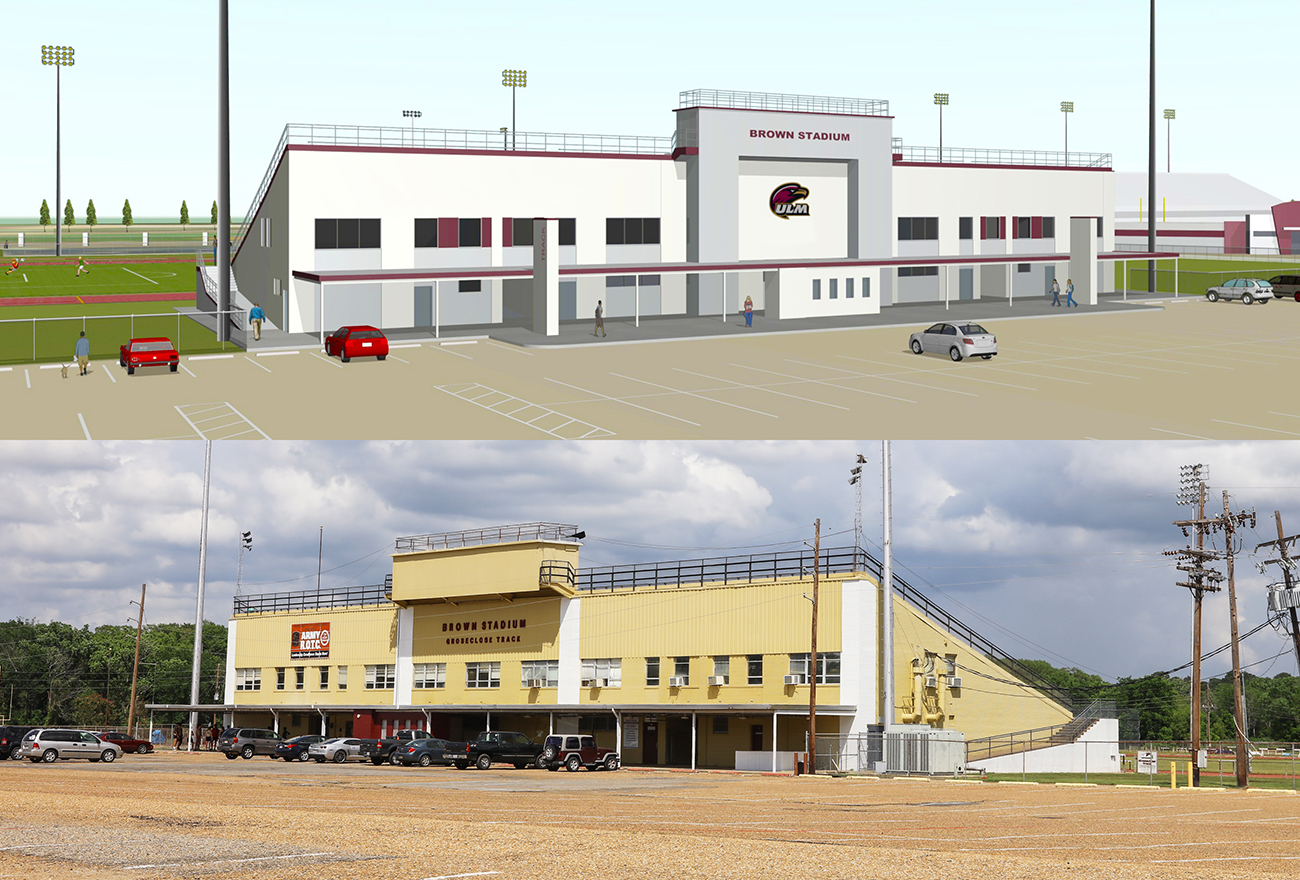 "We'll start almost immediately on the track surface because we want to have it ready as quickly as we can,'' McDonald said. "Then it will go in phases from there." 
Originally erected as a Works Progress Administration project for $45,000 in 1938, Brown Stadium stood across the bayou as home to the football team for nearly three decades. As the campus expanded, the university relocated the steel-frame structure to its current location in 1967. The relocation contract of March 15, 1966 included building a new track. 
"It's good to be able to have some buildings that have some history and were built right where you can go in and renovate them and bring them back to their original glory, as opposed to knocking things down and building something new," McDonald said. "That's the old lion of the whole complex. It's the last facility on that side of the bayou that we haven't addressed from an improvement standpoint. I'm probably as excited about this as I have been anything in a long time."
The football program continued to utilize Brown until Malone Stadium opened in 1978. Although the men's and women's track teams have called the facility home for 50 years, there have been no major renovations to the building since its relocation. 
"When (athletic director) Brian Wickstrom came in, one of his priorities was getting us a track," ULM track and field coach J.D. Malone said. "I'm very excited. It's going to be a game-changer for us."
Malone said it had been four years since ULM played host to a home meet at Groseclose Track. 
"I remember when we had home meets and it always seemed like we had a lot of personal records and good performances," Malone said. "It just makes sense. Kids want to perform well on their home track. That's another thing I'm looking forward to."
The women's soccer program made its debut in 1999 at Brown Stadium and played seven seasons there. The team moved to the ULM Soccer Complex next to The Grove in 2006 but will regain a lighted field and other improved amenities. 
"I am very excited about the direction this program is heading and the facility upgrades we are receiving," ULM soccer coach Keyton Wheelock said. "The possibility of playing night matches will give us an opportunity to increase attendance and involvement of the community."
The defunct ULM's men's soccer team also played on the field at Brown Stadium from 1979-85.
Through time, Brown Stadium served as the primary stage for a rich array of legendary performers. 
Louisiana Sports Hall of Fame track coach Bob Groseclose and former football coach and Heisman Trophy winner John David Crow called the venue home. Joe Profit, the first African-American to play football for a predominantly white university in Louisiana, played his career there. Later on, future Olympian Breaux Greer threw the javelin for ULM on the same grounds.
Even the visitors list is notable. Opposing football teams brought future NFL quarterbacks Roger Staubach and Terry Bradshaw to Brown Stadium. 
"There were some great players for then-Northeast and the teams that came in," McDonald said. "Our own Joe Profit, our only first-round draft pick, played there. Obviously Coach Groseclose and that track program, with people like John Pennel and the Styron twins from track and field. All those great track teams trained out there and used that dressing room.
"When I got to ULM in the fall of 1978, Brown Stadium served as the baseball team's dressing room. It has served as a facility for a lot of teams and a lot of great players. It hosted a lot of great moments out there for football and track. Even men's soccer played on that field."  
ULM's commitment to preserve the facility means that student-athletes will continue adding chapters to Brown's lore for years to come. 
"I am excited for our student-athletes, coaches and community about this project," ULM Athletic Director Brian Wickstrom said. "We have been working on making this project a reality the last four years.  I want to thank the donors who have made commitments to the project, the students, the Convention and Visitors Bureau and a special thanks to Dr. Bruno for working with us to help get this facility approved and underway. "
Brown Stadium renovation project schedule
ULM facilities signs contract with architect, March 24, 2017

Architectural and engineering begin design phase, April 1, 2017

Receive ULS Board approval, April 20, 2017

Design complete, Aug. 1, 2017

Design review period Aug. 1-Aug. 14, 2017

Project out for bidding, Aug 15, 2017

Bidding closes, Sept 15, 2017

Contract phase, Oct 1, 2017

Begin construction, Oct. 1, 2017

End construction, May 1, 2018

Grand opening, May 18, 2018