Published May 13, 2017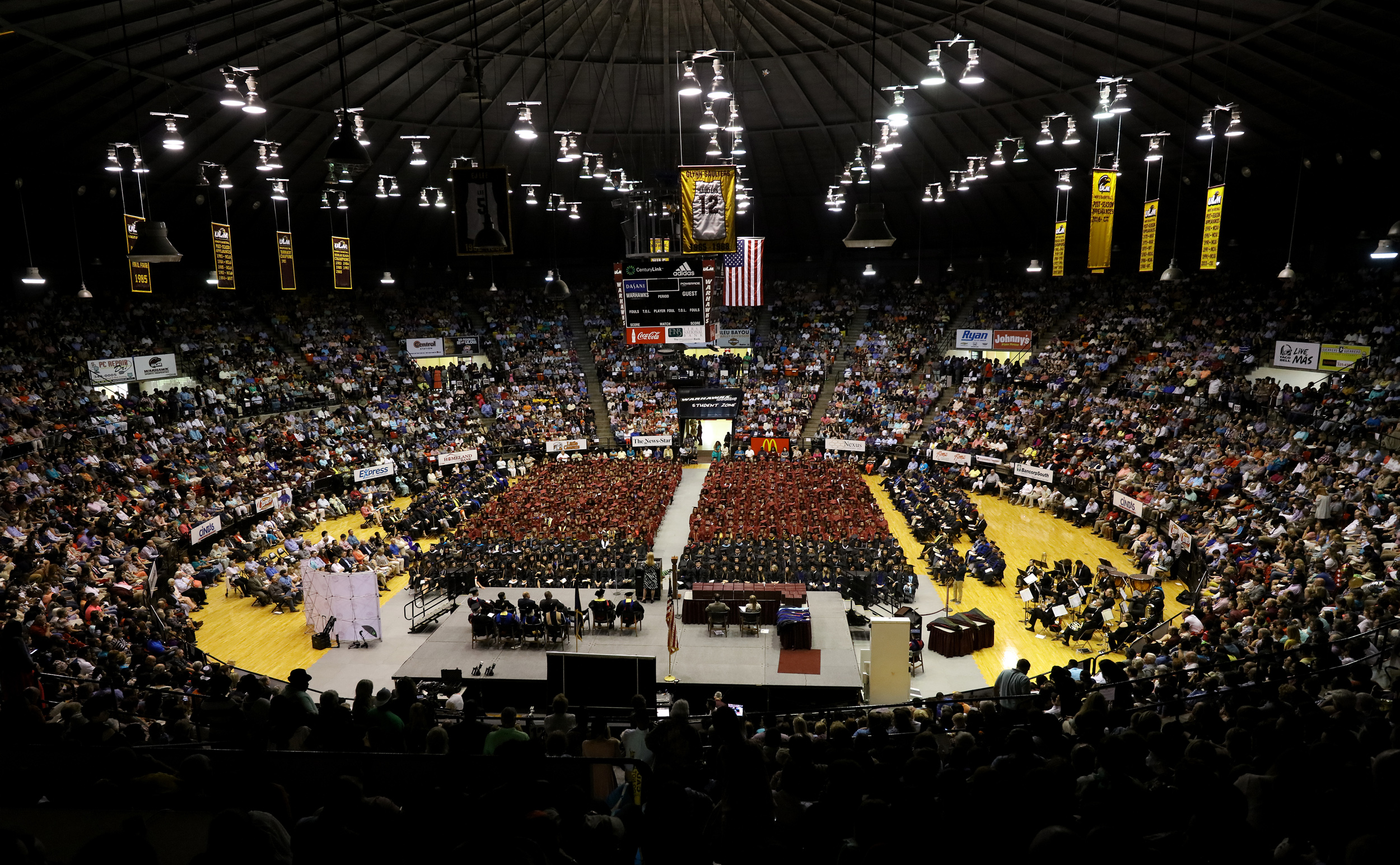 There were tears and cheers at Saturday's Spring 2017 Commencement Ceremony at the University of Louisiana Monroe as degrees were conferred on 860 students.
There were 193 students graduating with honors, 34 summa cum laude (3.900-4.000), 45 magna cum laude (3.750-3.899) and 114 cum laude (3.500-3.749). The 14 summa students with 4.0 cumulative GPAs were recognized individually as the top graduates.
Thirty-six student-athletes graduated with a 3.0 or higher.
ULM alumnae Maxine L. Moreau, CenturyLink President of Consumer Markets, gave the commencement address. She advised the graduates to look to the future, especially technology.
"Think about the pace of change and what that means for you as you embark on the next phase of your life journey. Your generation is blessed by technological advances I could only imagine when I was a student here, earning my degree in Computer Information Services," Moreau said.
Moreau said in less than 10 years, smartphone technology will be out of date.
"The smartphone will become obsolete by 2025, replaced by augmented reality. Let me say it again … smartphones could become obsolete by 2025," she said.
She stressed to the graduates that they are poised to leave their mark on the world.
"You, today's graduates, many who are part of the millennial generation, are uniquely positioned to use your knowledge, skills and aptitudes to advance your cause regardless of your degree or discipline. Whether you go on to contribute your talents to science, education, government, a large corporation, a small start-up or a non-profit organization … you can help make real change happen in this world."
It is a tradition for President Dr. Nick J. Bruno to recognize a few outstanding graduates at commencement. Saturday he spoke about five, sharing a bit about their journeys.
"I think the one theme is perseverance and dedication," he said.
Chelbi Elizabeth Johnson of Sterlington, changed majors as a freshman, switching from education to political science. She may go on to law school, but this summer she begins her Masters in Public Administration at ULM. Johnson said she was led by her faith to a career where she could help people.
Siddartha Dhakal left his home in Kathmandu, Nepal, in 2013. Since arriving at ULM, Dhakal set his sights on a post-graduate position with an Ivy League school and has worked tirelessly to achieve that goal. And he did. In the fall, Dhakal will be at Yale University on a full scholarship to pursue a Ph.D. in biomedical research. He leaves ULM with a Bachelor of Science in Biology.
Brett Kathey was recognized for receiving his degree in general studies 31 years after he started ULM. Kathey was a freshman from Leesville in 1986. Soon a job offer he could not refuse put his studies on hold. Fast forward three decades and Kathey decided to complete his college education by taking classes online through eULM. Kathey and his wife, Heather, live in Dallas, and he did not know she had written to ULM about her husband's accomplishment.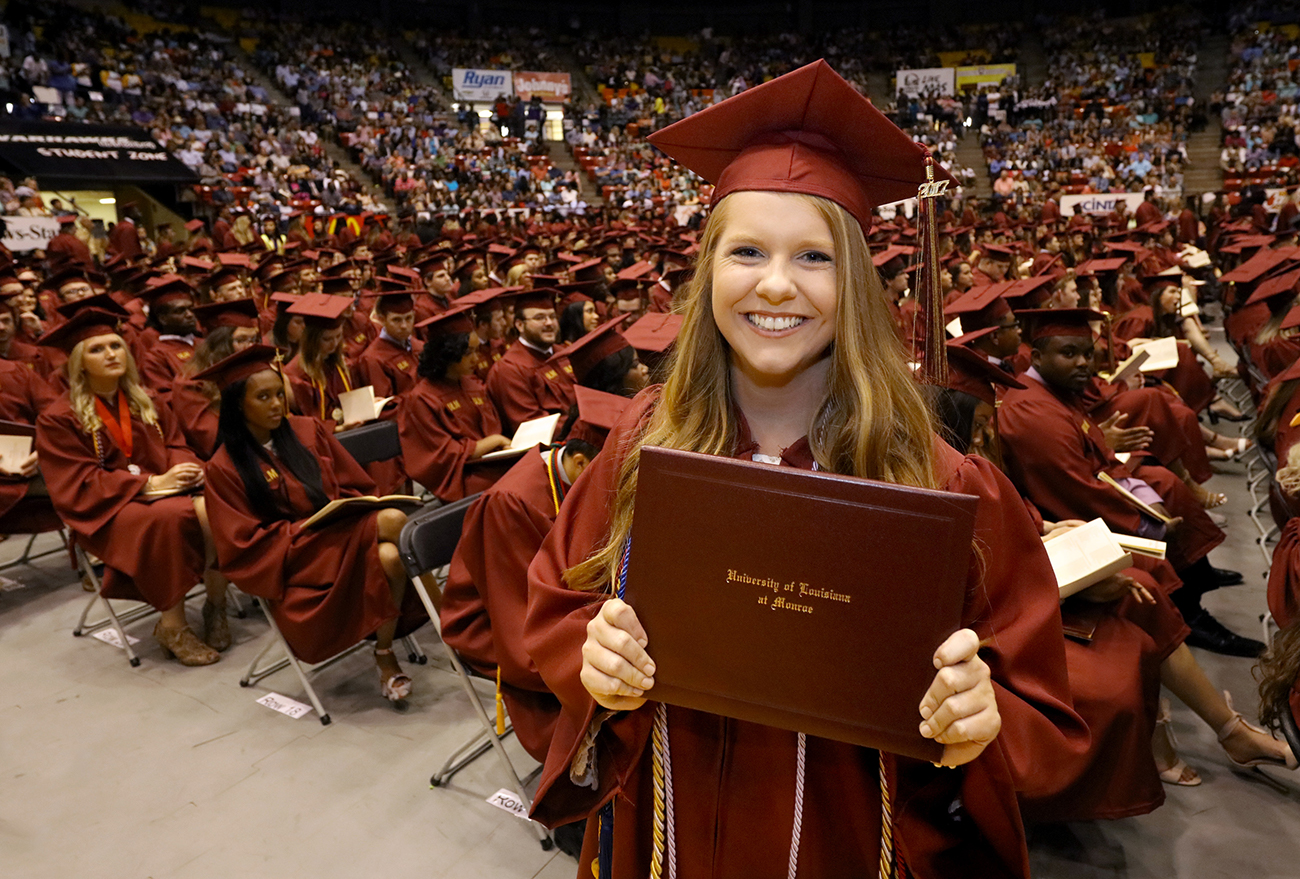 Jenna Ann Maihles was honored for her dedication to her dream of becoming a doctor. Mailhes is from Monroe and through the years has been by her mother's side during serious illnesses. Her experiences with her mother's health issues gave Mailhes even more determination. She earned a Bachelor of Science in Biology and will go on to LSU Medical School-Shreveport in the fall.
Linda Jackson of the Monroe is ULM Associate Registrar responsible for transcripts and also the liaison with VA students. Jackson enrolled at ULM in the late 1970s, but was unable to complete her studies. She began working for ULM in 1999 and over the years took classes when she could. Saturday she was presented with the diploma she set out to earn some 40 years ago.
There was a new look on the coliseum floor for the ceremony as the students wore newly designed maroon or black commencement robes by Balfour. The maroon robes were worn by those receiving bachelor's degrees and the black for master's and Ph.D.
For the full degree candidate list, please see http://ulm.edu/commencement/documents/grad-list-spring-2017-final-r1.pdf