ULM pharmacy researchers link olive oil to preventing cancer, Alzheimer's
Published May 25, 2017
By Vladimir Jakovljevic (ULM Office of Public Information)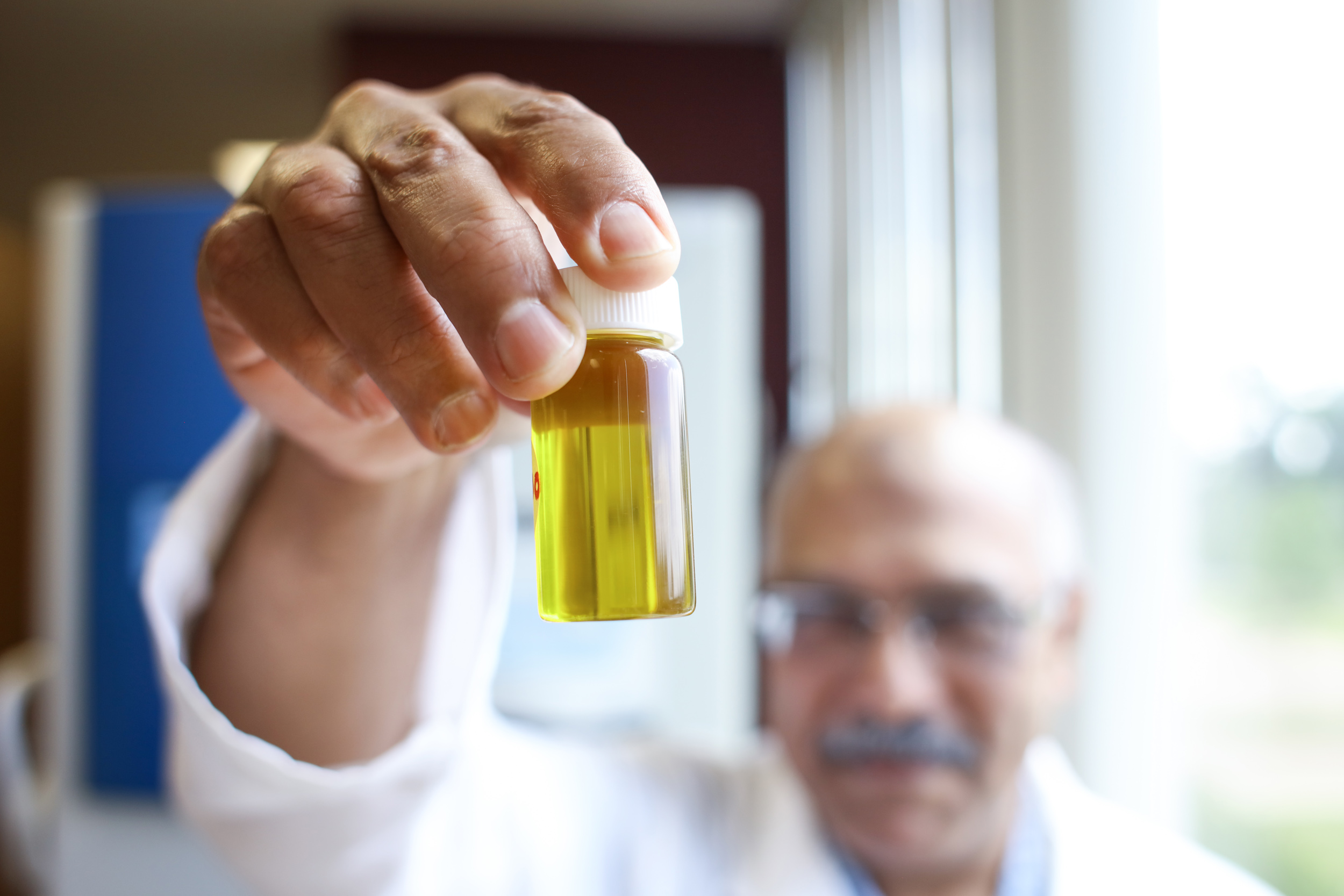 In the summer of 1965, a team of researchers at the University of Florida formulated a carbohydrate-electrolyte beverage to help their football players cope with heat and heat-related illnesses. Since the university football team is the Florida Gators, they named the breakthrough thirst-quenching beverage Gatorade.
Today, two researchers at the University of Louisiana Monroe are developing a product which they believe could have an even greater benefit – prevention of two of humanity's most devastating illnesses, cancer and Alzheimer's disease.
Since 2009, Professor Khalid El Sayed, Ph.D., and Associate Professor Amal Kaddoumi, Ph. D., of the Basic Pharmaceutical Sciences Department of the ULM School of Pharmacy, have worked on a project to develop an olive oil-based food supplement to help prevent cancer and Alzheimer's disease.
The El Sayed-Kaddoumi project is titled "Novel extra-virgin olive oil-based functional food for cancer and Alzheimer's disease prevention." It focuses on extracting and testing the effects of oleocanthal, one of the most active compounds of olive oil.
"Our recent studies showed that oleocanthal selectively suppressed several human breast cancer cell lines," El Sayed said. "In addition to its cancer preventive and control activity, oleocanthal has also demonstrated an anti-Alzheimer's disease activity and we also found evidence for its potential to reduce the risk of Alzheimer's disease."
Kaddoumi said she is confident their oleocanthal-based product could prevent cancer and Alzheimer's if taken early enough.
"We are very optimistic in terms of prevention because the mice experiments we conducted show that the earlier you give this compound, the more efficient the outcome will be," Kaddoumi said.
Next step: developing an oral delivery method
The experiments with mice were conducted by injecting them with extracted oleocanthal. Now the scientists are developing a way for humans to take oleocanthal by mouth. This could be an instant powder beverage or a capsule.
The oral form would be tested on mice to see if it produces the same preventive effects as the injectable extract.
If that testing is successful, the human trials could begin.
"In other words, we have to prove the same effect on humans," El Sayed said. "We are optimistic that we will have the product out on the market. However, clinical trials are necessary to prove that we can apply it to humans, and those are often very expensive and time-consuming."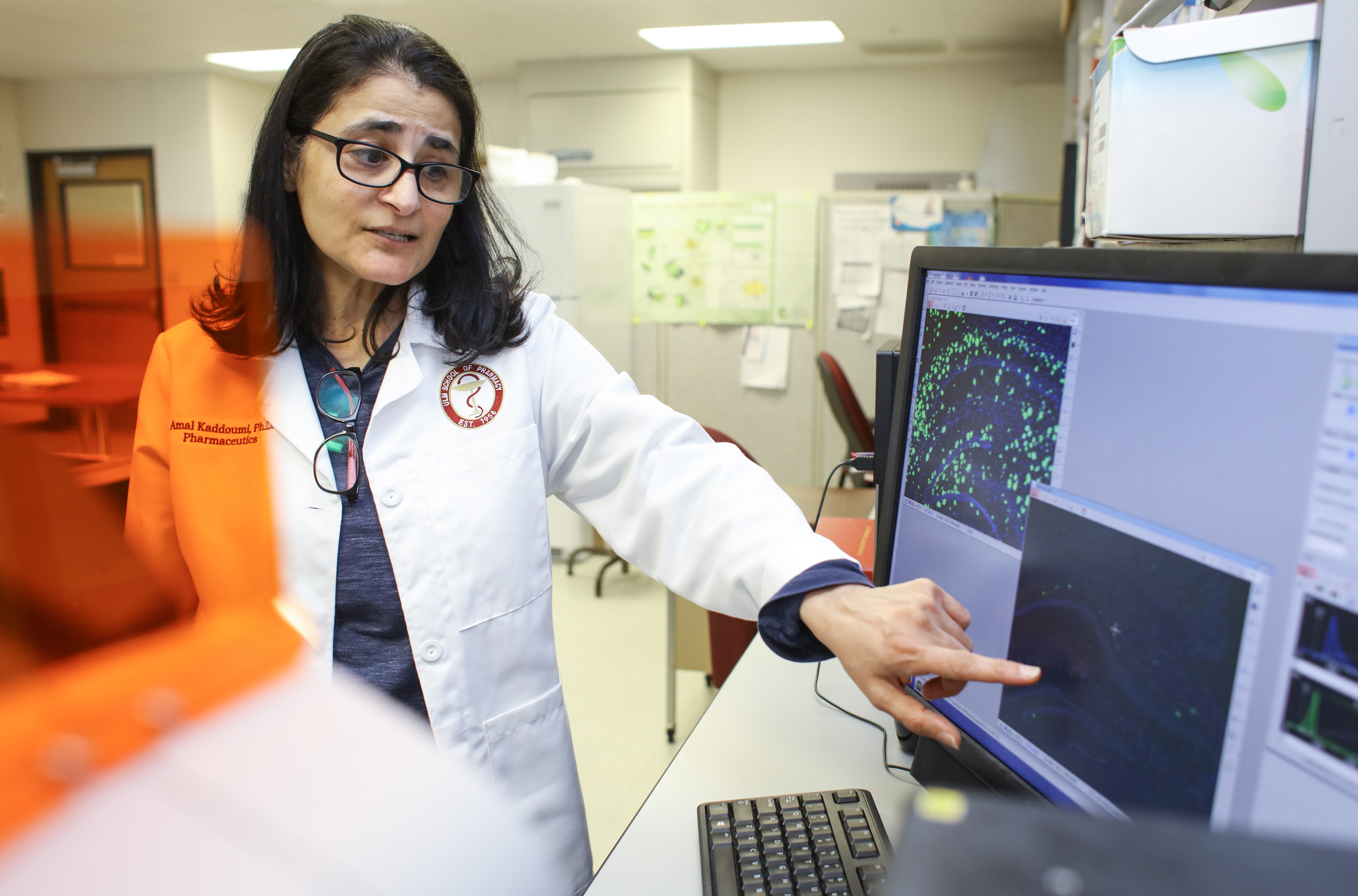 La. Board of Regents backs research
Kaddoumi and El Sayed recently partnered with Segue Therapeutics, owned by Dr. James Cardelli, a retired 30-year LSU Health Science Center-Shreveport faculty member, who will provide $22,500 over a three-year period for the project.
"Segue Therapeutics considers this a project that can potentially be commercialized and have a very good outcome," El Sayed said. "This collaboration is very important because it allows us to secure more funds."
Due to their collaboration with Segue Therapeutics, the researchers have recently secured something much bigger, a $225,000 award from the Louisiana Board of Regents Industry Ties Research Subprogram. It covers three years beginning July 1.
After reviewing 28 research proposals requesting a total of $2,489,579 in funding, the Board of Regents categorized seven proposals, including ULM's, as "Priority One: Highly Meritorious Proposals Recommended for Funding."
ULM's project was further ranked number one, ahead of other institutes in Louisiana, including LSU, University of Louisiana Lafayette and Tulane Medical School.
The board described El Sayed, Kaddoumi and Cardelli as "three investigators with extensive and distinguished publication records who form an excellent research group with evidence of productivity in the field."
"This award is a great accomplishment and it will help us develop, test and promote our olive oil-based product, especially because we filed a patent on novel isolation and therapeutic application methods," El Sayed said.
Kaddoumi and El Sayed, in collaboration with Cardelli, hope three years from now to have their product available as a dietary food supplement capsule and an instant dry powder drink.
The financial potential of the olive oil product is clearly enormous. To put it in perspective, today Gatorade has 75 percent of the sports drink market in the United States. Worldwide, the company topped $3.3 billion in sales in 2016.
However, the prospect of preventing cancer and Alzheimer's is priceless.